This new collection of science fiction and fantasy writing has a diverse range of debut novelists. New Wellington talent H. G. Parry writes about fiction characters becoming all too real, while Ada Hoffman of The Outside has written many short works of speculative fiction and now takes to novel form. Hoffman creates neurodiverse characters from a place of personal knowledge, her own pitch for the novel being, "It's a suspenseful space opera with some totally wild surreal cosmic horror mixed in, a whole bunch of strong female/queer/disabled characters, genuinely difficult moral quandaries, and empathy winning."
Set in the universe of the Three-Body Problem Trilogy, The Redemption of Time continues Cixin Liu's multi-award-winning science fiction saga. This original story by Baoshu, published with Liu's support, envisions the aftermath of the conflict between humanity and the extraterrestrial Trisolarans.
In Longer, Michael Blumlein explores dauntingly epic topics including love, the expanse of the human lifespan and mortality. Finally, in a nod to the recent Hugo Awards hosted in Dublin (and foreshadowing Wellington's WorldCon), Brilliant Void showcases vintage imaginings–Irish science fiction from way back!
Brilliant void : a selection of classic Irish science fiction
"An astronomer challenges an emperor. A hunter pursues the last dinosaur. A young Kerryman emigrates to the Moon to seek his fortune. In the 19th and 20th centuries, the winds of change came rushing in Ireland's direction. Science would transform everything: life, love, death, crime, war, and even history itself. Edited and introduced by Jack Fennell, this collection of lesser-known works of classic Irish science fiction includes stories by Frances Power Cobbe, Fitz-James O'Brien and Charlotte McManus." (Adapted from catalogue)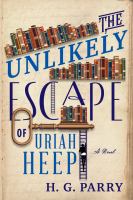 The unlikely escape of Uriah Heep / Parry, H. G.
"For his entire life, Charley Sutherland has concealed a magical ability he can't quite control: he can bring characters from books into the real world. His older brother, Rob a young lawyer with an utterly normal life hopes that this strange family secret will disappear with disuse. But then, literary characters start causing trouble in their city, making threats about destroying the world… and for once, it isn't Charley's doing." (Adapted from catalogue)
The redemption of time / Baoshu
"In the midst of an interstellar war, Yun Tianming found himself tortured beyond endurance for decades. Yun eventually succumbed to helping the aliens subjugate humanity in order to save Earth from complete destruction. Yun has spent his very long life in exile as a traitor to the human race. Nearing the end of his existence at last, a consciousness calling itself The Spirit has recruited him to wage battle against an entity that threatens the existence of the entire universe. But Yun refuses to be a pawn again." (Adapted from catalogue)
The October man / Aaronovitch, Ben
"When a man is found dead with his body impossibly covered in a fungal rot, the local authorities know they are out of their depth. Trier: famous for wine, Romans and being Germany's oldest city. But fortunately this is Germany, where there are procedures for everything. Enter Tobias Winter, an investigator for the Abteilung KDA, the branch of the German Federal Criminal Police which handles the supernatural." (Adapted from catalogue)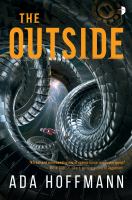 The outside / Hoffmann, Ada (print, (eBook)
"Autistic scientist Yasira Shien has developed a radical new energy drive that could change the future of humanity. But when she activates it, reality warps, destroying the space station and everyone aboard. The AI Gods who rule the galaxy declare her work heretical, and Yasira is abducted by their agents. Instead of simply executing her, they offer mercy if she'll help them hunt down a bigger target: her own mysterious, vanished mentor." (Catalogue)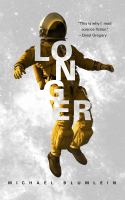 Longer / Blumlein, Michael (print), (eBook)
"Gunjita and Cav are in orbit. R&D scientists for pharmaceutical giant Gleem Galactic, they are wealthy enough to participate in rejuvenation: rebooting themselves from old age to jump their bodies back to their twenties. You get two chances. There can never be a third. After Gunjita has juved for the second and final time and Cav has not, questions of life, death and morality arise to test their relationship. Up among the stars, the research possibilities are infinite and first contact is possible, but their marriage may not survive the challenge." (Catalogue)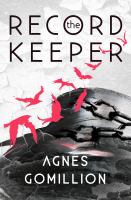 The record keeper / Gomillion, Agnes
"After World War III, Earth is in ruins, the final armies have come to a reluctant truce. Everyone must obey the law or risk shattering the fragile peace. Although Arika Cobane is a member of the race whose backbreaking labor provides food for the remnants of humanity. After ten grueling years of training, she is on the threshold of taking her place of privilege far from the fields. But everything changes when a new student arrives." (Adapted from catalogue)
If, then : a novel / Day, Kate Hope (print), (eBook)
"In the quiet mountain haven of Clearing, Oregon, four neighbors find their lives upended when they begin to see themselves in a parallel reality… At first the visions are relatively benign, but they grow increasingly troubling–and in some cases, frightening. Startling, deeply imagined, and compulsively readable, Kate Hope Day's debut novel is about the choices we make that shape our lives and determine our destinies, the moments that alter us so profoundly that it feels as if we've entered another reality." (Catalogue)
The iron dragon's mother / Swanwick, Michael
"Caitlin of House Sans Merci is the young half-human pilot of a sentient mechanical dragon. Returning from her first soul-stealing raid, she discovers an unwanted hitchhiker. When Caitlin is framed for the murder of her brother, to save herself she must disappear into Industrialized Faerie, looking for the one person who can clear her. Unfortunately, the stakes are higher than she knows. Her deeds will change her world forever." (Catalogue)