Everything you do leaves traces, doesn't it. The life you've lived is written all over you, for those who can read."
― Jo Nesbø, Flaggermusmannen
The ever popular crime genre of Scandi Noir is well represented in this month's recently acquired mystery fiction showcase with newly acquired books by Scandi Noir luminaries Anne Holt and Jo Nesbo. There are also some new delicious Cosy crime novels by Rebecca Tope and Susan Wittig Albert. And to round up this month's acquisitions we also have the remarkable critically lauded masterpiece of modern writing Drive your plow over the bones of the dead by Man Booker Prize winning Polish author Olga Tokarczuk. Enjoy
Knife / Nesbø, Jo
" 
KNIFE
sees Harry Hole waking up with a ferocious hangover, his hands and clothes covered in blood. Not only is Harry about to come face to face with an old, deadly foe, but with his darkest personal challenge yet. The twelfth instalment in Jo Nesbo?s internationally bestselling crime fiction series
.
" (Catalogue)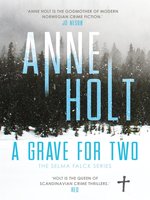 A grave for two / Holt, Anne
"Selma Falck's personal life and career as a lawyer have hit rock bottom. That is until Hege Chin Morell – Norway's best female skier – approaches her desperate to overturn a doping charge. With two months to the Winter Olympics, Selma faces the seemingly almost impossible task of clearing Morell's name. However, when a male skier is found dead after a training accident, it becomes clear to Selma that there is something more serious at risk.  As Selma's race against time begins, she realizes that more lives are at stake." (Adapted from Catalogue)Also available as an eBook.
Secrets in the Cotswolds / Rebecca Tope.
"Thea Slocombe is struggling to entertain her stepchildren through the long summer holiday while her husband Drew works, so she keenly accepts a new job house-sitting in Barnsley. However, her commission proves to be far from relaxing when she stumbles across a woman hiding among some bushes. The woman's story is thin and incoherent, but Thea agrees to offer her sanctuary for the night.When her guest is found dead the next morning Thea turns to the police for help. As she digs deeper into the deceased's background, she discovers a tangled web of lies, secrets and at least three very likely suspects …" (Adapted from Syndetics summary)
A plain vanilla murder / Albert, Susan Wittig
"​China and Ruby Wilcox are presenting their annual "Not Just Plain Vanilla Workshop," always a huge hit with customers at Thyme & Seasons Herb Shop. But someone involved with the workshop is driven by a deadly motive, and China soon finds herself teaming up with the very pregnant Pecan Springs police chief Sheila Dawson to solve a vanilla-flavored murder. There's no shortage of other suspects: a betrayed lover, a disgruntled graduate student, jealous colleagues, and a gang of orchid smugglers. " (Adapted from Catalogue)
Drive your plow over the bones of the dead / Tokarczuk, Olga
" Drive Your Plow Over the Bones of the Dead takes place in a remote Polish village, where Duszejko, an eccentric woman in her sixties, recounts the events surrounding the disappearance of her two dogs. When members of a local hunting club are found murdered, she becomes involved in the investigation. Duszejko is reclusive, preferring the company of animals to people; she's unconventional, believing in the stars, and she is fond of the poetry of William Blake, from whose work the title of the book is taken. " (Catalogue)  Also available as an eBook.
The shameless / Ace Atkins.The Shameless
" Twenty years ago, teenager Brandon Taylor walked into the Big Woods north of Tibbehah County, Mississippi, and never returned. For former Army Ranger-turned-sheriff Quinn Colson, the Taylor case has particular meaning. As a ten-year-old, Colson had been lost in those same woods, and came back from them alive and a local legend. Years later, bones of a child are found in the woods, confirming for many the end to the Taylor story.  Quinn's search for answers will upset the corruption that's plagued his home since before he came back from Afghanistan. " (Adapted from Syndetics summary)
Love and death among the cheetahs / Bowen, Rhys
"Georgie is excited when Darcy announces out of the blue that they are flying to Kenya for their extended honeymoon. It is only after they arrive that she suspects he has actually been sent there on an assignment. Shocked at the completely decadent lifestyle that involves wild parties and rampant infidelity. One of the leading lights in the community, Lord Cheriton, is found dead along a lonely stretch of road.  It seems the Happy Valley community wants to close the case, but as Georgie and Darcy investigate, almost everyone has a motive to want Lord Cheriton dead." (Adapted from Catalogue) Also available as an eBook.
Palm Beach, Finland / Tuomainen, Antti
"Jan Nyman, the ace detective of the covert operations unit of the National Central Police, is sent to a sleepy seaside town to investigate a mysterious death. Nyman arrives in the town dominated by a bizarre holiday village–the "hottest beach in Finland." The suspect: Olivia Koski, who has only recently returned to her old hometown. The mission: find out what happened, by any means necessary. " (Adapted from Catalogue)