There are many definitions of Afrofuturism; the one I gravitate towards refers to media that explores futures for black individuals and the black community. This is where it intersects with science fiction and fantasy—writers and artists often use technology and the fantastical as elements in these explorations.
(From Book Riot)
Afrofuturism has expression in other mediums – a small nod here to musical artists ranging from Sun Ra to Janelle Monae and Missy Elliott, not just for their musical talents, but for their visual representation of Afrofuturism, using music videos or personal style to tell of celebrated identity reaching beyond the present. This year the Hugo awards has Monae's Dirty Computer in the lineup for Best Dramatic Presentation, Short Form. The movie Black Panther pulled in accolades and attention beyond the usual Marvel film viewers. Nnedi Okorafor of Binti fame is the voice behind the Blank Panther Shuri series.
Our selection below showcases a few key library titles in a variety of formats (print, eBooks etc.).  Enjoy!
The Rosewater insurrection / Thompson, Tade
"All is quiet in the city of Rosewater as it expands on the back of the gargantuan alien Wormwood. Those who know the truth of the invasion keep the secret.
The government agent Aminat, the lover of the retired sensitive Kaaro, is at the forefront of the cold, silent conflict. She must capture a woman who is the key to the survival of the human race. But Aminat is stymied by the machinations of the Mayor of Rosewater and the emergence of an old enemy of Wormwood." (Catalogue)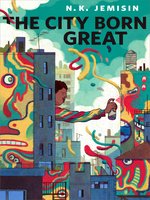 The City Born Great, N. K. Jemisin (eBook)
"In this standalone short story by N. K. Jemisin, author of The Fifth Season, the winner of this year's Hugo Award for Best Novel, New York City is about to go through a few changes. Like all great metropolises before it, when a city gets big enough, old enough, it must be born; but there are ancient enemies who cannot tolerate new life. Thus New York will live or die by the efforts of a reluctant midwife…and how well he can learn to sing the city's mighty song." (Overdrive description)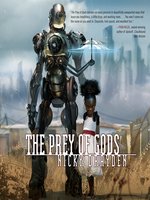 The Prey of Gods, Nicky Drayden (eAudiobook)
"A new hallucinogenic drug sweeping the country. An emerging AI uprising. And an ancient demigoddess hellbent on regaining her former status by preying on the blood and sweat of every human she encounters. It's up to a young Zulu girl powerful enough to destroy her entire township, a queer teen plagued with the ability to control minds, a pop diva with serious daddy issues, and a politician with even more serious mommy issues to band together to ensure there's a future left to worry about." (Overdrive description)
BTTM FDRS / Daniels, Ezra Claytan
"Once a thriving working-class Chicago neighbourhood, the 'Bottomyards' is now the definition of urban blight. When an aspiring fashion designer named Darla and her image-obsessed friend, Cynthia, descend upon the neighbourhood in search of cheap rent, they soon discover something far more seductive and sinister lurking behind the walls of their new home. At turns funny, scary, and thought provoking, BTTM FDRS unflinchingly confronts the monsters – both metaphorical and real – that are displacing cultures in urban neighbourhoods today." (Catalogue)
The rage of dragons / Evan Winter.
"The Omehi people have been fighting an unwinnable war for almost two hundred years. One in every two thousand women has the power to call down dragons. One in every hundred men is able to magically transform himself into a bigger, stronger, faster killing machine. Everyone else is fodder, destined to fight and die in the endless war. Young, gift-less Tau knows all this, but he has a plan of escape. Only, he doesn't get the chance." (Syndetics summary)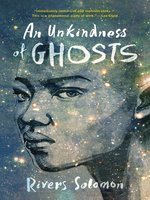 An Unkindness of Ghosts, Rivers Solomon (ebook), (eAudiobook)
"Welcome to the Tarlands aboard the space vessel HSS Matilda. The Matilda has ferried the last of humanity to a mythical Promised Land. On its way, the ship's leaders have imposed harsh moral restrictions and deep indignities on dark-skinned sharecroppers like Aster, who they consider to be less than human. When the autopsy of Matilda's sovereign reveals a surprising link between his death and her mother's suicide some quarter-century before, Aster retraces her mother's footsteps." (Overdrive description)
Do you dream of Terra-Two? / Oh, Temi (print) (eBook)
"A century ago, scientists theorised that a habitable planet existed in a nearby solar system. Today, ten astronauts will leave a dying Earth to find it. It will take the team 23 years to reach Terra-Two. Twenty-three years spent in close quarters. Twenty-three years with no one to rely on but each other. Twenty-three years with no rescue possible, should something go wrong. And something always goes wrong." (Catalogue)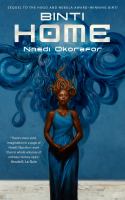 Home / Okorafor, Nnedi
"It's been a year since Binti and Okwu enrolled at Oomza University. A year since Binti was declared a hero for uniting two warring planets. A year since she found friendship in the unlikeliest of places. And now she must return home to her people, with her friend Okwu by her side, to face her family and face her elders. But Okwu will be the first of his race to set foot on Earth in over a hundred years, and the first ever to come in peace. After generations of conflict can human and Meduse ever learn to truly live in harmony?" (Catalogue)
Parable of the sower / Butler, Octavia E
"The time is 2025. The place is California, where small walled communities must protect themselves from hordes of desperate scavengers and roaming bands of people addicted to a drug that activates an orgasmic desire to burn, rape, and murder. When one small community is overrun, Lauren Olamina, an 18 year old black woman with the hereditary train of "hyperempathy" which causes her to feel others' pain as her own–sets off on foot along the dangerous coastal highways, moving north into the unknown." (Catalogue)