The expressive world of ink on paper expands into vision with the latest comics to be found on our library shelves.  From espionage to architecture and filmmaking this month's crop of new comics is loaded with talent both in storytelling and artistry.
Fior Manuele, the artist who created the Interview, connects to his training in architecture as he spins a mythic tale of a young man in the thrall of seeking perfection. Red Ultramarine, originally published in 2006, has been recently translated by Jamie Richardis. Michael Bendis and David Mack take the touring artist route into counterintelligence. Global travel and a storytelling cover leads to recruitment and an introduction to several comic artists as the con tour continues in Cover. The watercolour illustration bends in style, referencing the introduction of different artists.
The opposite to perfection sees Penny Nichols helping to create glorious schlock horror movie with a disreputable crew. And politics and family don't mix in an ode to concrete, The Structure is Rotten, Comrade shows the difference between vision for building and the reality of social needs. Viken Berberian and Yann Kebbi have created a vivid comic with a dynamic style with figures sketched over the architecture that is the centre of the story.
It was tricky to select just a few from this month's collection of comics, below are some of the great assortment of talent and styles. Enjoy!
Red ultramarine / Fior, Manuele
"The Greek myth of Daedalus and Icarus is woven into this psychologically complex graphic novel, for the first time in English! Fausto, a young architect, is a prisoner of his own obsession: the search for perfection. Only the love of Silvia, his girlfriend, can save him. To help him, she goes to a strange doctor, who will guide her on a journey between reality and myth. This is an early work of the internationally acclaimed cartoonist Mauele Fior, rendered in a striking red and black two-color palette." (Adapted from Catalogue)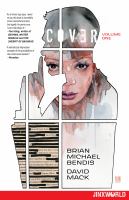 Cover. Volume one / Bendis, Brian Michael
"Based on a true story, the intelligence community figures out that the traveling band of social misfits who make comic books are an exact match to the profiles of candidates recruited for intelligence and counterintelligence gathering.  A very well-known comics creator is recruited by the agency to live a double life as a spy…And convention season is upon us. With a nod to films like Confessions of a Dangerous Mind and The In-Laws, this comic celebrates comics, comic creators, readers and of course, spies." (Adapted from Catalogue)
The structure is rotten, comrade / Berberian, Viken
"More in love with the alluring properties of cement than he is with his girlfriend, Frunz's overriding ambition is to become the next legendary architect. His father, known as Mr. Cement, is a builder in bed with the autocrats who run Yerevan, the capital of post-Soviet Armenia. As father and son team up to transform the city into a post-modern mecca of Trumpian high-rises, outraged citizens rise up in Revolution against them and Yerevan's corrupt regime." (Adapted from Catalogue)
Little girls / Aflleje, Nicholas
"Sam and Lielet are two new friends living in Ethiopia who are dealing with the kind of problems that all kids have: judgmental social cliques, condescending adults, alienation, and a legendary brain-eating monster of folklore. Sure, it's not going to be easy, but all they have to do is live through it." (Adapted from Catalogue)
Hot comb / Flowers, Ebony
"Hot Comb offers a poignant glimpse into black women's lives and coming-of-age stories. Ebony Flowers re-creates classic magazine ads idealizing women's need for hair relaxers and products. Realizations about race, class, and the imperfections of identity swirl through these stories and ads, which are by turns sweet, insightful, and heartbreaking.  From her black-and-white drawings to her color construction-paper collages, Hot Comb is a propitious display of talent from a new cartoonist who has already made her mark." (Catalogue)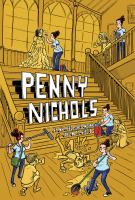 Penny Nichols / Reed, M. K
"Stuck working mind-numbing temp jobs, Penny Nichols yearns to break free from the rut she's found herself in. When, by chance, she falls in with a group of misfits making a no-budget horror movie called "Blood Wedding," everything goes sideways. Soon her days are overrun with gory props, a horny cameraman, and a disappearing director. This hilarious original graphic novel is a loving tribute to the chaos and camaraderie of DIY filmmaking, and the ways we find our future and our family in the unlikeliest of places." (Adapted from Catalogue)
The dreaming. Volume one, Pathways and emanations / Spurrier, Simon
"Twenty-three years after he was anointed as its master, the lord of dreams has inexplicably abandoned his domain. Lord Daniel's absence triggers a series of crimes and calamities that consume the lives of those already tangled in his fate. The most senior storytellers are tormented by invasive secrets, the warden Lucien is doubting his own mind, and beyond the gates, something horrific awaits with tooth and talon." (Adapted from Catalogue)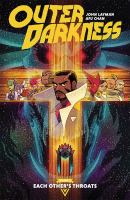 Outer darkness [1] : each other's throats / Layman, John
"Sci-fi and horror collide in this new series from the creator of Chew. Mankind has colonized the galaxy, but during our interstellar travels, we've discovered a terrifying secret out in the Outer Darkness of space. Join Captain Joshua Rigg and the crew of the starship Charon as they encounter demonic possessions, hauntings, cosmic horror and more. Collects Outer darkness #1-6." (Adapted from Catalogue)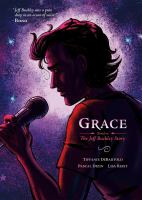 Grace : the Jeff Buckley story / DeBartolo, Tiffanie
"California, 1991. All his life, people have told Jeff Buckley how much he looks like his father, the famous '60s folksinger he barely knew. But Jeff believes he has gifts of his own: a rare, octave-spanning voice and a songwriting genius that has only started to show itself. What follows are six turbulent years of music, heartbreak, hope, and daring. This graphic novel biography uses archival material provided by Jeff's mother, Mary Guibert, to reveal the young songwriter in the process of becoming a legend." (Adapted from Catalogue)