"Well, all information looks like noise until you break the code."
– Neal Stephenson, Snow Crash
With the 2019 Hugo award nominees recently announced and it now being just under a year until the Hugo awards ceremony here in Wellington at CoNZealand, it is great to see two newly acquired science fiction and fantasy books that have connections to the Hugos. The first is Spinning Silver by Naomi Novik which is on the 2019 Hugo long list. The second is Mercedes Lackey's Eye Spy. Mercedes Lackey is one of the guests of honour at CoNZealand next year.
There were lots of other new titles that caught our attention including the continuing rise of the awesome Afro Futurism genre as represented in this month's list by Tade Thompson's The Rosewater Insurrection. There is also Neal Stephenson's latest magnum opus Fall; or, Dodge in Hell, described by the New York Times no less as "a staggering work of imagination". And as if that wasn't enough two new books from acknowledged fantasy masters Stephen Donaldson and Tad Williams as well as a whole plethora of other science fiction and fantasy goodies to enjoy.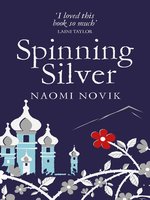 Spinning Silver / Novik, Naomi (print) (eBook)
"Miryem was brought up in a snowbound village, on the edge of a charmed forest. She comes from a family of moneylenders, but her kind father shirks his work. Free to lend and reluctant to collect, his family faces poverty – until Miryem intercedes. Hardening her heart, she sets out to retrieve what's owed, and her neighbours soon whisper that she can turn silver into gold. Then an ill-advised boast attracts the cold creatures that haunt the wood. Nothing will be the same again, for words have power." (Adapted from Catalogue)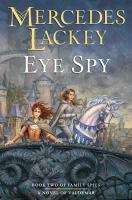 Eye spy / Lackey, Mercedes
"In this second installment of the Family Spies series, set in the bestselling world of Valdemar, the children of Heralds Mags and Amily must follow in their parents' footsteps to protect the realm. When Abi senses the imminent collapse of a bridge only moments before it happens, she saves countless lives, including that of her best friend, Princess Katiana. The experience, though harrowing, uncovers her unique Gift–an ability to sense the physical strains in objects." (Adapted from Catalogue)
The Rosewater insurrection / Thompson, Tade
"All is quiet in the city of Rosewater as it expands on the back of the gargantuan alien Wormwood. Those who know the truth of the invasion keep the secret. The government agent Aminat, the lover of the retired sensitive Kaaro, is at the forefront of the cold, silent conflict. She must capture a woman who is the key to the survival of the human race. But Aminat is stymied by the machinations of the Mayor of Rosewater and the emergence of an old enemy of Wormwood…" (Adapted from Catalogue)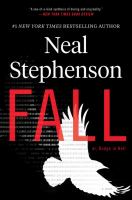 Fall, or, Dodge in hell : a novel / Stephenson, Neal
"Fall, or Dodge in Hell is pure, unadulterated fun: a grand drama of analog and digital, man and machine, angels and demons, gods and followers, the finite and the eternal. In this exhilarating epic, Neal Stephenson raises profound existential questions and touches on the revolutionary breakthroughs that are transforming our future. Combining the technological, philosophical, and spiritual in one grand myth, he delivers a mind-blowing speculative literary saga for the modern age." (Adapted from Catalogue)
The war within / Donaldson, Stephen R
"It has been twenty years since Prince Bifalt of Belleger discovered the Last Repository and the sorcerous knowledge hidden there. At the behest of the repository's magisters, and in return for the restoration of sorcery to both kingdoms, the realms of Belleger and Amika ceased generations of war. But an ancient enemy has discovered the location of the Last Repository, and a mighty horde of dark forces is massing to attack the library and take the magical knowledge it guards. " (Adapted from Catalogue)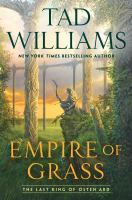 Empire of grass / Williams, Tad
"The kingdoms of Osten Ard have been at peace for decades, but now, the threat of a new war grows to nightmarish proportions. Their allies in Hernystir have made a pact with the dreadful Queen of the Norns to allow her armies to cross into mortal lands. The ancient, powerful nation of Nabban is on the verge of bloody civil war, and the fierce nomads of the Thrithings grasslands have begun to mobilize, united by superstitious fervor and their age-old hatred of the city-dwellers." (Adapted from Catalogue)
Exhalation / Stories / Chiang, Ted (print) (eBook)
"This much-anticipated second collection of stories is signature Ted Chiang, full of revelatory ideas and deeply sympathetic characters. In "The Merchant and the Alchemist's Gate," a portal through time forces a fabric seller in ancient Baghdad to grapple with past mistakes and the temptation of second chances. In the epistolary "Exhalation," an alien scientist makes a shocking discovery with ramifications not just for his own people, but for all of reality." (Adapted from Catalogue)
Triumphant / Campbell, Jack (print) (eBook)
"The recently colonized world of Glenlyon has learned that they're stronger when they stand with other star systems than they are on their own. But after helping their neighbor Kosatka against an invasion, Glenlyon has become a target. An attack is launched against Glenlyon's orbital facility with forces too powerful for fleet officer Rob Geary to counter using their sole remaining destroyer, Saber. Mele Darcy's Marines must repel repeated assaults while their hacker tries to get into the enemy systems to give Saber a fighting chance." (Adapted from Catalogue)