None of you understand. I'm not locked up in here with YOU. You're locked up in here with ME. ― Alan Moore, Watchmen
Legendary, iconic, genre-breaking and redefining graphic novelist Alan Moore has just announced he will do one last graphic novel before he retires – the final installment of his The League of Extraordinary Gentlemen series.
His works have attracted in turn rapturous praise and acclaim, as well as controversy and outrage. Works such as his Swamp Man series, V for Vendetta, Watchman and arguably his masterwork The League of Extraordinary Gentlemen have no doubt revolutionised the graphic novel genre elevating it to the lofty position of high serious art.
His uncompromisingly brutal, honest and occasionally explicit approach to his work has gained him a huge legion of fans but has often put his works in conflict with more conservative reviewers and authorities. A self-confessed anarchist, his V for Vendetta masked protagonist has been widely adopted by activists in various protest movements.
He started his career writing Future Shocks for 2000AD before being head hunted by DC Comics where he chose to write for one of their lesser known characters Swamp Thing, turning it into a masterpiece about ecology and humanity way beyond the original confines of the character. What followed was a remarkable list of ground breaking works such as Batman: the Killing Joke, Superman: Whatever Happened to the Man of Tomorrow?, Providence, Neonomicon, From Hell and Promethea to name but a few.
It is beyond doubt that his influence on the graphic novel world and on culture and society beyond those confines has been substantial.
The complete Alan Moore Future shocks / Moore, Alan
"The entire run of short stories created for
2000 AD
by the most celebrated author in comics history, Alan Moore. Each one is like a small episode of the
Twilight Zone
. For the
Future Shocks
series of short stories with a twist ending, Alan Moore created some of his most exciting, memorable and explicitly entertaining work. Also featured in this collection are his short
Time Twister
tales – including the famous and poignant story
The Reversible Man
where one man's life is told in reverse." (Adapted from Catalogue)
Providence. Act 1 / Moore, Alan
"Alan Moore's quintessential horror series has set the standard for a terrifying examination of the works of H.P. Lovecraft. It is being universally hailed as one of Moore's most realized works in which the master scribe has controlled every iota of the story, art, and presentation. The result has been a masterpiece like no other, unparalleled in tone and content, and a true must have addition to his essential works in the field." (Catalogue)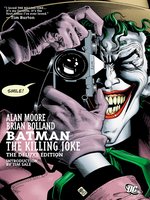 Batman: The Killing Joke, Alan Moore (ebook)
"This is the unforgettable work that forever changed Batman's world, adding a new element of darkness with its unflinching portrayal of The Joker's twisted psyche. Writer Alan Moore, acclaimed author of WATCHMEN and V FOR VENDETTA, offers his take on the disturbing relationship between The Dark Knight and his greatest foe. The Clown Prince of Crime has never been more ruthless than in this brutal tale." (Overdrive description)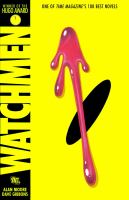 Watchmen / Moore, Alan
"Exceptional graphic artwork brings to life the story of the Watchmen as they race against time to find a killer, with the fate of the world hanging in the balance." (Catalogue)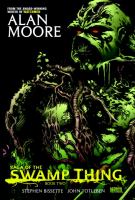 Saga of the Swamp Thing. Book two / Moore, Alan
"Created out of the swamp by a freak accident, Swamp Thing is an elemental creature who uses the forces of nature and wisdom of the plant kingdom to fight the polluted world's self-destruction. Alan Moore took the Swamp Thing to new heights in the 1980s with his unique narrative approach. His provocative and groundbreaking writing, combined with masterly artwork by some of the medium's top artists, made SWAMP THING one of the great comics of the late twentieth century." (Adapted from Catalogue)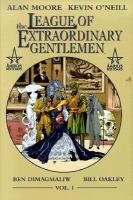 The League of Extraordinary Gentlemen. Volume I, 1898 / Moore, Alan
"The Victorian Era draws to a close and the twentieth century approaches. It is a time of great change and an age of stagnation, a period of chaste order and ignoble chaos. It is an era in need of champions. In this amazingly imaginative tale, literary figures from throughout time and various bodies of work are brought together to face any and all threats to Britain." (Adapted from Catalogue)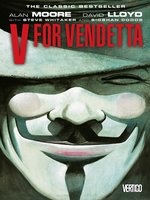 V for Vendetta, Alan Moore (ebook)
"A powerful story about loss of freedom and individuality, V FOR VENDETTA takes place in a totalitarian England following a devastating war that changed the face of the planet. In a world without political freedom, personal freedom and precious little faith in anything, comes a mysterious man in a white porcelain mask who fights political oppressors through terrorism and seemingly absurd acts in this gripping tale of the blurred lines between ideological good and evil." (Overdrive description)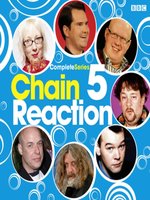 Chain Reaction: Complete Series 5, BBC (Audiobook)
"Chain Reaction is the entertaining BBC Radio 4 tag talk show where this week's guest is next week's interviewer. Famous names from the world of show business choose who they would like to chat to, and must submit to being questioned in their turn the week after. In this fifth series, guests (and hosts) include Jenny Éclair, Jimmy Carr, Matt Lucas, Johnny Vegas, Stewart Lee, Alan Moore and Brian Eno." (Overdrive description)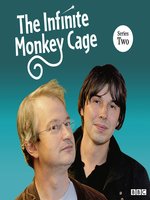 The Infinite Monkey Cage, Series 2, Brian Cox (Audiobook)
"The second series of the Sony Radio Academy Gold Award-winning BBC Radio 4 show in which physicist Brian Cox and comedian Robin Ince take a witty, irreverent and unashamedly rational look at the world according to science. Episode 3 sees special guests Jonathan Ross, graphic novelist Alan Moore and string theorist Brian Greene joining Brian Cox and Robin Ince for a special science-fiction-themed edition of the show." (Overdrive description)