I do not share the pessimism of the age about the novel. They are one of our greatest spiritual, aesthetic and intellectual inventions."
— Richard Flanagan, Man Booker acceptance speech
It's arrived: the longlist for the literary world's most prestigious prize! But did the judges get it right? Were the best books really selected? Well, in a slightly mischievous vein we've examined the best titles of recent months and selected the ones that, in our opinion, should have, could have, might have been on the 2019 Booker longlist.
To start off with we've got our very own This Mortal Boy from Fiona Kidman, as well as the fabulous Tina Makereti's The Imaginary Lives of James Pōneke. Then of course there's Ali Smith's Spring and Ian McEwan's Machines Like Me. Books from a clutch of less famous authors also thoroughly impressed us, including Ocean Vuong's On Earth We're Briefly Gorgeous and The Chain by Adrian McKinty. So, for your consideration, here is Wellington City Libraries' alternative Booker longlist!
Is there anything we missed out? Is there a novel you think should have made the cut? Then please, let us know.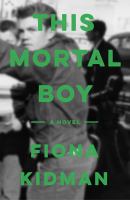 This mortal boy / Kidman, Fiona  (print) (eBook)
"Albert Black, known as the 'jukebox killer', was only 20 when he was convicted of murdering another young man in a fight at a milk bar in Auckland on 26 July 1955. His crime fuelled growing moral panic about teenagers, and he was to hang less than five months later, the second-to-last person to be executed in New Zealand. But what really happened? Was this a love crime, was it a sign of juvenile delinquency? Or was this dark episode in our recent history more about our society's reaction to outsiders?"  (Adapted from catalogue)
The imaginary lives of James Pōneke / Makereti, Tina (print) (eBook)
"The hour is late. The candle is low. Tomorrow I will see whether it is my friends or a ship homewards I meet. But first I must finish my story for you. My future, my descendant, my mokopuna. Listen? So begins the tale of James Poneke–orphaned son of a chief; ardent student of English; wide-eyed survivor. All the world's a stage, especially when you?re a living exhibit. But anything can happen to a young New Zealander on the savage streets of Victorian London." (Adapted from catalogue)
The porpoise / Haddon, Mark
"A newborn baby is the sole survivor of a terrifying plane crash. She is raised in wealthy isolation by an overprotective father. She knows nothing of the rumours about a beautiful young woman, hidden from the world. When a suitor visits, he understands far more than he should. Forced to run for his life, he escapes aboard The Porpoise, an assassin on his tail… So begins a wild adventure of a novel, damp with salt spray, blood and tears." (Adapted from catalogue)
Machines like me and people like you / McEwan, Ian
"Britain has lost the Falklands war, Margaret Thatcher battles Tony Benn for power and Alan Turing achieves a breakthrough in artificial intelligence. In a world not quite like this one, two lovers will be tested beyond their understanding. Machines Like Me occurs in an alternative 1980s London. Ian McEwan's subversive and entertaining new novel poses fundamental questions–what makes us human? Our outward deeds or our inner lives? Could a machine understand the human heart?" (Adapted from catalogue)
Spring : a novel / Smith, Ali (print) (eBook)
"From the Man Booker-short-listed author of Autumn and Winter comes the highly anticipated third novel in the acclaimed Seasonal Quartet. On the heels of Autumn and Winter comes Spring, the continuation of Ali Smith's celebrated Seasonal Quartet, a series of stand-alone novels, separate but interconnected (as the seasons are), wide-ranging in timescale and light-footed through histories." (Adapted from catalogue)
The chain / McKinty, Adrian
"You just dropped off your child at the bus stop. A panicked stranger calls your phone. Your child has been kidnapped. The stranger then explains that their child has also been kidnapped, by a completely different stranger. The only way to get your child back is to kidnap another child–within 24 hours. Your child will be released only when the next victim's parents kidnap yet another child. And most importantly, if you don't kidnap a child, your child will be murdered. You are now part of The Chain." (Adapted from catalogue)
Big sky / Atkinson, Kate
"Jackson Brodie has relocated to a quiet seaside village in North Yorkshire, in the occasional company of his recalcitrant teenage son Nathan and ageing Labrador Dido. It's a picturesque setting, but there's something darker lurking behind the scenes. Jackson's current job, gathering proof of an unfaithful husband for his suspicious wife, seems straightforward, but a chance encounter with a desperate man on a crumbling cliff leads him into a sinister network–and back into the path of his old friend Reggie." (Adapted from catalogue)
On earth we're briefly gorgeous : a novel / Vuong, Ocean
"A young man named Little Dog writes a letter to his mother, who cannot read, investigating a family history begun in Vietnam. At once a witness to the fraught yet undeniable love between a single mother and her son, it is also a brutally honest exploration of race, class and masculinity. Asking questions central to our American moment, immersed as we are in addiction, violence and trauma, but undergirded by compassion and tenderness." (Adapted from catalogue)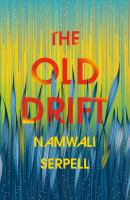 The old drift : a novel / Serpell, Namwali (print) (eBook)
"Namwali Serpell's ground-shaking debut novel is an epic story of three generations of three Zambian families–one black, one brown and one white. Unfolding over 200 years, but set mainly in the twentieth century, one family begins in Italy, another in England and the third in Zambia. The three families' lives become entwined as each is plagued by a curse passed on down the generations." (Adapted from Catalogue)