Have you read a library book that you can't wait to tell people about? The Readers' Choice selections are books nominated by people who want to pass on their reading experience to the library community. These selections are highlighted with Reader's Choice stickers so that others can find great reading material. You can find slips for Reader's Choice reviews in new books, or ask staff for one if you have a review or recommendation to embellish the library collection.
This Reader's Choice selection features a great swathe of genres.  From suspense filled thrillers to feel good literature filled with laugh out loud content. There is edgy commentary on modern policy in Dave Eggers' The Parade. The struggle between generations is played out in Trick, where a lengthy baby sitting gig leaves a grandfather and grandson alone with each other in Naples. Sail Away by Celia Imrie shows that age is no barrier to adventure. And a change in tone comes from Robert Galbraith and Tami Hoag where investigation teams struggle with evidence and their personal lives.
The boy / Hoag, Tami
"In the sleepy Lousiana town of Bayou Breaux, the police arrive to find Genevieve Gauthier cradling her seven-year-old son in her arms as he bleeds to death. The scene is chaotic, but as Detective Nick Fourcade moves through the house, he sees no evidence of a robbery. Detective Annie Broussard sits with Genevieve, trying to make sense of her story. The next day, thirteen-year-old Nora Florette is reported missing. The town is up in arms, with parents fearing a maniac is preying on the children of Bayou Breaux. As Fourcade and Broussard dig into their case, they find something shocking about Genevieve Gauthier's past. She is both victim and the accused; a grieving mother and a woman with a deadly secret."(Catalogue)
Reader's review: "This book was impeccable! Exploring themes of power, abuse, infidelity and bullying, I was hooked by the second chapter. Hoag leaves you guessing until the very end. Would absolutely recommend! Oh and Annie & Nick #POWERCOUPLE".
Sail away / Imrie, Celia print, (eBook)
"Suzy Marshall is discovering that work can be sluggish for an actress over sixty . So when her agent offers her the plum role of Lady Bracknell in The Importance of Being Earnest in Zurich, it seems like a godsend. Until, that is, the play is abruptly cancelled, and Suzy is forced to take a job on a cruise ship to get home.
Meanwhile Amanda Herbert finds herself homeless in rainy Clapham. Her flat purchase has fallen through. Then she spots an advertisement for an Atlantic cruise. As the two women set sail on a new adventure, neither can possibly predict the strange characters and dodgy dealings they will encounter nor the unexpected rewards they will reap." (Catalogue)
Reader's review: "This is an enjoyable book. Celia Imrie has wisely centred it around the world of acting, which she obviously knows well.  The plot is a bit telegraphed at times but has enough twists and turns to keep me interested."
Absolutely smashing it / Wallace, Kathryn
"Gemma is only just holding it together – she's a single parent, she's turning 40 and her seven-year-old daughter has drawn a cruelly accurate picture which locates Gemma's boobs somewhere around her knees. So when her new next-door neighbour, Becky, suggests that Gemma should start dating again, it takes a lot of self-control not to laugh in her face. But before long Gemma finds herself juggling a full-time job, the increasingly insane demands of the school mums' Facebook group and the tricky etiquette of a new dating world. It's going to be a long year – and one in which Gemma and Becky will learn a really crucial lesson: that in the end, being a good parent is just about being good enough." (Catalogue)
Reader's review: "Hilarious laugh out loud stuff if you're a recent female divorcee. Quick flowing storyline with real antics and life snapshot. Brilliant."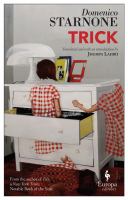 Trick / Starnone, Domenico, translated by Jhumpa Lahari
"Imagine a duel between an elderly man and a mere boy. The same blood runs through their veins. One, Daniele Mallarico, is a successful illustrator whose reputation is slowly fading. The other, Mario, is his four-year-old grandson. Daniele has been living in a cold northern city for years, in virtual solitude, focusing obsessively on his work, when his daughter asks if he would come to Naples for a few days and babysit Mario while she and her husband attend a conference. Shut inside his childhood home — an apartment in the centre of Naples that is filled with the ghosts of Mallarico's past — grandfather and grandson match wits as Daniele heads toward a reckoning with his own ambitions and life choices.
Outside the apartment, pulses Naples, a wily, violent, and passionate city whose influence can never be shaken." (Catalogue)
Reader's review: "Enjoyed this book. I decided to read the introduction when I had finished too technical for me.  Early stages of the book were not that clear, but it came together toward the end. Loved the imagery and felt for both Grandpa and the four year old."
The rip / Brandi, Mark
"A young woman, living on the street has to keep her wits about her. Or her friends. But when the drugs kick in that can be hard. Anton has been looking out for her. She was safe with him. But then Steve came along. He had something over Anton. Must have. But he had a flat they could crash in. And gear in his pocket. And she can't stop thinking about it. A good hit makes everything all right. But the flat smells weird. There's a lock on Steve's bedroom door. And the guy is intense. The problem is, sometimes you just don't know you are in too deep, until you are drowning." (Catalogue)
Reader's review: "An amazing, grippingread that delves into the story of a young woman conquering the odds around drug addiction.  Darker themes but incredibly written, each sentence drew me further own the rabbit hole."
Lethal white / Galbraith, Robert
"'I seen a kid killed . . . He strangled it, up by the horse.' When Billy, a troubled young man, comes to private eye Cormoran Strike's office to ask for his help investigating a crime he thinks he witnessed as a child, Strike is left deeply unsettled.  But before Strike can question him further, Billy bolts from his office in a panic. Trying to get to the bottom of Billy's story, Strike and Robin Ellacott – once his assistant, now a partner in the agency – set off on a twisting trail that leads them through the backstreets of London, into a secretive inner sanctum within Parliament, and to a beautiful but sinister manor house deep in the countryside." (Catalogue)
Reader's review: "I had seen the TV series C. B. Strike so was keen to read this. It lived up to expectations although I felt the tying up of the ends is a bit rushed and not quite in the same vein as the rest. All in all sad to get to the end and a great read. Definitely recommended."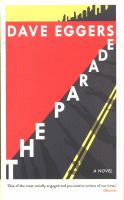 The parade : a novel / Eggers, Dave
" An unnamed country is leaving the darkness of a decade at war, and to commemorate the armistice the government commissions a new road connecting two halves of the state. Two men, foreign contractors from the same company, are sent to finish the highway. While one is flighty and adventurous, wanting to experience the nightlife and people, the other wants only to do the work and go home. But both men must eventually face the absurdities of their positions, and the dire consequences of their presence. With echoes of J. M. Coetzee and Graham Greene, this timeless novel questions whether we can ever understand another nation's war, and what role we have in forging anyone's peace." (Catalogue)
Reader's review: "I really enjoyed this book. It was easy to read and I found the place setting intriguing and the conflict between the characters amusing.  The ending was abrupt but it left me thinking.  All in all it was a good book, challenging but had a good pace – would recommend!"
Widows' revenge / La Plante, Lynda
"Against all the odds, Dolly Rawlins and her gangland widows managed the impossible: a heist their husbands had failed to pull off – at the cost of their lives. But though they may be in the money, they're far from easy street. Shocked by her husband's betrayal, Dolly discovers Harry Rawlins isn't dead. He knows where the four women are and he wants them to pay. And he doesn't just mean getting his hands on the money. The women can't keep running. They have to get Harry out of their lives for good. But can they outwit a criminal mastermind who won't hesitate to kill? Especially when one of them has a plan of her own . . . to kill or be killed. The sequel to Lynda La Plante's groundbreaking thriller, Widows – now a major feature film." (Catalogue)
Reader's review: "Excellent read! Full of action and credible characters"