Different roads sometimes lead to the same castle."
― George R.R. Martin, A Game of Thrones
Are you one of the hordes of people suffering from Game of Thrones withdrawal symptoms? Are you missing the dragons? The action? The intrigue? Are you wondering where to go for fantastic new fantasy–or perhaps you even want a story that explores different concepts and ideas?
Then fear not, help is at hand! We've selected a sample of the best fantasy epics around–and all of them are available from your friendly neighbourhood library branch or as part of our eLibrary. Enjoy!
(For our more extensive Overdrive list of recommendations click here.)

The broken kingdoms / N.K. Jemisin.
"In the city of Shadow, beneath the World Tree, alleyways shimmer with magic and godlings live hidden among mortalkind. Oree Shoth, a blind artist, takes in a strange homeless man on an impulse. This act of kindness engulfs Oree in a nightmarish conspiracy. Someone, somehow, is murdering godlings, leaving their desecrated bodies all over the city. And Oree's guest is at the heart of it. . . " (Adapted from Syndetics summary)
Fool's assassin / Robin Hobb.
"FitzChivalry–royal bastard and former king's assassin–has left his life of intrigue behind. As far as the rest of the world knows, FitzChivalry Farseer is dead and buried. Masquerading as Tom Badgerlock, Fitz is now married to his childhood sweetheart and leading the quiet life of a country squire. At least he is, until the appearance of menacing, pale-skinned strangers. Now, to protect his new life, the former assassin must once again take up his old one . . ." (Adapted from Syndetics summary) Also available as an eBook.
The sorcerer's daughter: the defenders of Shannara / Terry Brooks.
"The mysterious, magic-wielding Druid order has existed for long ages, battling any evil that threatens the Four Lands–and struggling to be understood and accepted by outsiders. But their hopes of building goodwill are dashed when a demon's murderous rampage at a peace summit leaves their political opponents dead–casting new suspicions upon the Druids and forcing them to flee from enemies both mortal and monstrous." (Adapted from Syndetics summary)
Also available: The Shannara Chronicles television series. Click here for availability of Season One and here for availability of Season Two.
League of dragons / Naomi Novik.
"Napoleon's invasion of Russia has been roundly thwarted. But even as Capt. William Laurence and the dragon Temeraire pursue the retreating enemy through an unforgiving winter, Napoleon is raising a new force, and he'll soon have enough men and dragons to resume the offensive. While the emperor regroups, the allies have an opportunity to strike first and defeat him once and for all–if internal struggles and petty squabbles don't tear them apart." (Adapted from Syndetics summary) Also available as an eBook.
Heir to Sevenwaters / Juliet Marillier.
"Lady Aisling of Sevenwaters has given birth to another child–a new heir. But the family's joy turns to despair when the baby is taken from his room and something unnatural is left in his place. Clodagh must enter the showy Otherworld and confront the powerful prince who rules there." (Syndetics summary)
Voyager: Outlander Book 3 / Diana Gabaldon.
"Their passionate encounter happened long ago by whatever measurement Claire Randall took. Two decades before, she had travelled back in time and into the arms of a gallant eighteenth-century Scot named Jamie Fraser. Then she returned to her own century to bear his child, believing him dead in the tragic battle of Culloden. Yet his memory has never lessened its hold on her–and her body still cries out for him in her dreams. Then Claire discovers that Jamie survived . . ." (Adapted from Syndetics summary)
Also available: the Outlander television series. Click here for availability.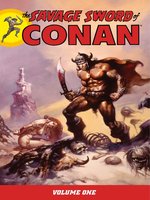 "Savage Sword of Conan, Volume 1, Roy Thomas (ebook)
In the mid 1970s following the colossal success of Conan the Barbarian, Roy Thomas helped expand the universe of Conan to showcase further stories and the talents of some of the comics industry's best with the equally popular Savage Sword of Conan magazine. Now, for the first time in over thirty years, these primal tales, featuring Robert E. Howard's most popular character, are available, collecting all Savage Sword Conan stories beginning with issue one." (Overdrive description)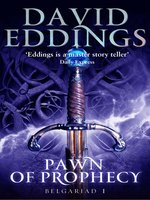 Pawn of Prophecy / David Eddings (ebook)
"Myths tell of the ancient wars of Gods and men, and a powerful object–the Orb–that ended the bloodshed. As long as it was held by the line of Riva, it would assure the peace. But a dark force has stolen the Orb, and the prophecies tell of war. Young farm boy Garion knows nothing of myth or fate. But then the mysterious Old Storyteller visits his aunt, and they embark on a sudden journey." (Adapted from Overdrive description)
The priory of the orange tree / Samantha Shannon.
"The House of Berethnet has ruled for a thousand years. Still unwed, Queen Sabran must conceive a daughter to protect her realm from destruction–but assassins are getting closer. Ead Duryan is an outsider at court. Though she has risen to the position of lady-in-waiting, she is loyal to a hidden society of mages. Ead keeps a watchful eye on Sabran, protecting her with forbidden magic. Across the dark sea, Tane is forced to make a choice that could see her life unravel." (Adapted from Syndetics summary) Also available as an eBook.