Aotearoa/New Zealand has a long history of publishing exciting science fiction and fantasy, from Anno Domini 2000, or, Woman's Destiny by former Prime Minister Sir Julius Vogel to The Dreamhunter Duet by Elizabeth Knox to Ngā Waituhi o Rēhua by Katerina Te Heikoko Mataira.
Each year the best of this local sci-fi and fantasy is recognised at the Sir Julius Vogel Awards, with awards for novels, short stories, fan productions and more. This year the Vogels were announced at GeyserCon, the 40th National Science Fiction and Fantasy Convention in Rotorua. Congratulations to all the winners!
And next year things get even bigger. In 2020 the Vogels will be held as part of CoNZealand, the 78th World Science Fiction Convention–happening right here in Wellington. Guests include Mercedes Lackey, Larry Dixon, Greg Broadmore and toastmaster George R.R. Martin!
To get you started, we've got a list of past Vogel winners and finalists currently available in our collection. And for everyone who went to GeyserCon, we hope you had a great time!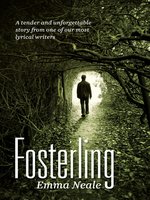 Fosterling, by Emma Neale (ebook)
"A young man is found unconscious in a remote forest. He is over seven feet tall, his skin covered in thick hair which reminds onlookers of an animal's pelt. When he wakes in a city hospital, he is eerily uncommunicative. Speculation begins. Medics want to run tests on him, the media want to get his story, and the public want to gawp and prod. A moving, compelling story about society and our reactions to difference." (Adapted from the Overdrive description)
Dreamer's pool : a Blackthorn & Grim novel / Marillier, Juliet
"In exchange for help escaping her long and wrongful imprisonment, embittered magical healer Blackthorn has vowed to set aside her bid for vengeance against the man who destroyed all that she once held dear. Followed by a former prison mate, a silent hulk of a man named Grim, she travels north to Dalriada. There she'll live on the fringe of a mysterious forest, duty bound for seven years to assist anyone who asks for her help…" (Adapted from the catalogue)
The traitor and the thief / Ward, Gareth
"Discovered picking pockets at Coxford's Corn Market, fourteen year old Sin is hunted across the city. Caught by the enigmatic Eldritch Moons, Sin is offered a way out of his life of crime: join the Covert Operations Group (COG) and train to become a spy. At Lenheim Palace, Sin learns spy craft while trying not to break the school's Cast-Iron Rules. Secrets, spies and steampunk gadgets abound in this fantastic adventure story!" (Adapted from the catalogue)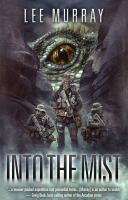 Into the mist / Murray, Lee
"When New Zealand Defense Force Sergeant Taine McKenna and his squad are tasked with escorting a bunch of civilian contractors into Te Urewera National Park, it seems a strange job for the army. Taine draws on ancient tribal wisdom as he becomes desperate to bring his charges out alive. Will it be enough to stop the nightmare? And when the mist clears, will anyone be left?" (Adapted from the catalogue)
Onyx javelin / Wheeler, Steve
"Move over Star Wars! This is a superb space opera… humans and hybrids and strange new creatures fighting for survival on Earth and across the galaxies. There is life everywhere throughout the Milky Way Galaxy. It takes forms that will astonish and frighten, that will challenge and terrify as they exist within the greater fight of existence: eat or be eaten. But who is the enemy really?" (Adapted from the catalogue)
Heartwood / Robertson, Freya
"Chonrad, Lord of Barle, comes to the fortified temple of Heartwood for Congressus peace talks, which Heartwood's holy knights have called in an attempt to stave off war in Anguis. But the Arbor, Hearthwood's holy tree, is failing, and because the land and its people are one, it is imperative the nations try to make peace." (Adapted from the catalogue)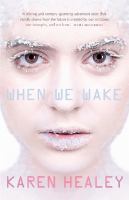 When we wake / Healey, Karen
"In 2027, sixteen-year-old Tegan is just like every other girl–playing the guitar, falling in love, and protesting the wrongs of the world with her friends. But then Tegan dies, waking up 100 years in the future as the unknowing first government guinea pig to be cryogenically frozen and successfully revived. Appalling secrets about her new world come to light, and Tegan must choose to either keep her head down or fight for a better future." (Adapted from the catalogue)