From dystopian novels to romance fiction there is an great range of reviewed reading material this month. Featuring complex relationship issues in Donna Leon's Venetian recent crime novel Unto us a son is given. Strange twists of fate and coincidence affect seaborne Shetland adventurer Cass Lynch in Death on a Shetland Isle by Marsali Taylor.  Tensions mount in a Swiss hotel as nuclear devastation doesn't halt the murderous habits of of one of a small number of guests, Hanna Jameson has written a disturbing end of times thriller, The last asks what kind of person you want to be at the end of the world?
These selected books are highlighted with Reader's Choice stickers so that other people can find great reading material. You can find slips for Reader's Choice reviews in new books, or ask staff for one if you have a review or recommendation to embellish the library collection.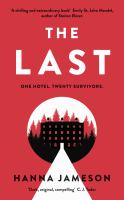 The last / Jameson, Hanna
"Breaking- Nuclear weapon detonates over Washington. Breaking- London hit, thousands feared dead. Breaking- Munich and Scotland hit. World leaders call for calm.
Jon Keller was on a trip to Switzerland when the world ended. More than anything he wishes he hadn't ignored his wife Nadia's last message. Twenty people remain in Jon's hotel. Far from the nearest city, they wait, they survive. Then one day, the body of a girl is found. It's clear she has been murdered. Which means that someone in the hotel is a killer… As paranoia descends, Jon decides to investigate. But how far is he willing to go in pursuit of justice? And what happens if the killer doesn't want to be found?" (Catalogue)
Reader's review: Somewhat harrowing but gripping dystopia novel of the post-trump era. Very well written.
Unto us a son is given / Donna Leon.

"The latest of Donna Leon's bestselling Venice crime novels. As a favour to his wealthy father-in-law, Commissario Guido Brunetti agrees to investigate the seemingly innocent wish of the Count's best friend, the elderly and childless Gonzalo, to adopt a younger man as his son. Under Italian inheritance laws, this man would become the sole heir to Gonzalo's substantial fortune. Not long after Brunetti meets with Gonzalo, the elderly man unexpectedly passes away from natural causes. Old and frail, Gonzalo's death goes unquestioned. But when Berta, one of Gonzalo's closest confidantes, is strangled in her hotel room, Brunetti is drawn into long-buried secrets from Gonzalo's past. What did Berta know? And who would go to such lengths to ensure it would remain hidden?" (Syndetics summary)
Reader's review: Interesting exposition of the importance of honesty in a loving relationships. Brunetti is as philosophical as usual and the Venetian back drop is as enticing as usual.  There is less political intrigue than usual but still a very enjoyable read.
The truths and triumphs of Grace Atherton / Harris, Anstey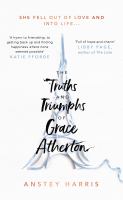 Also available as an eBook
"Between the simple melody of running her violin shop and the full-blown orchestra of her romantic interludes in Paris with David, her devoted partner of eight years, Grace Atherton has always set her life to music. Her world revolves entirely around David, for Grace's own secrets have kept everyone else at bay. Until, suddenly and shockingly, one act tips Grace's life upside down, and the music seems to stop. It takes a vivacious old man and a straight-talking teenager to kickstart a new chapter for Grace. In the process, she learns that she is not as alone in the world as she had once thought, that no mistake is insurmountable, and that the quiet moments in life can be something to shout about …" (Catalogue)
Reader's review: Well drawn characters. Story gets reader from page one and carries one along to the very end. Interesting re musical instrument restoration.
A lawless place / Donachie, David

"Edward Brazier is enlisted by Prime Minister William Pitt to assist his investigation into smuggling activity in Deal. However, with his love Betsy now locked into a loveless marriage with Tom Spafford, a useless drunk, and living as a prisoner, Brazier is distracted from his mission. Having foiled Spafford's plan to steal Betsy away to her family-owned plantation in the West Indies, Brazier finds himself taken captive. Only his ingenuity will help engineer his escape and his cunning use of subterfuge will then allow him to infiltrate the smuggling gangs of Deal in a determined bid to unmask those in control. But with suspicion raised around him and his enemies banding together, can Brazier survive long enough to bring those responsible to justice?" (Catalogue)
Reader's review: A good reflection of the era, but somewhat verbose! A list of characters would have been helpful.
Maybe this time / Mansell, Jill

"When Mimi first visits her dad's new home in the Cotswolds, she falls in love with Goosebrook and the people who live there. (Well, maybe not snooty Henrietta, who lets Mimi walk miles in the rain rather than give her a lift.) There's Paddy, with his flashing eyes and seductive charm. Friendly and funny Lois makes Mimi laugh. And seriously gorgeous Cal is welcoming and charismatic. Though Mimi loves her city life and her career, she'd be very happy to return to Goosebrook if it means seeing more of him. Life is about to take some unexpected and shocking twists and turns. And Mimi's path and Cal's are set to cross again and again – but will it ever be the right time for both of them? " (Catalogue)
Readers' review: You know you're going to enjoy Jill Mansel's book. This one is an enjoyable read and although everyone  lives happily ever after, there are some surprises and complications along the way!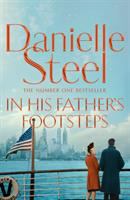 In his father's footsteps : a novel / Steel, Danielle
Also available as an eBook
"April, 1945. As the Americans storm the Buchenwald concentration camp, among the survivors are Jakob and Emmanuelle, barely more than teenagers. Each of them have lost everything and everyone in the unspeakable horrors of the war. But when they meet, they find hope and comfort in each other. Jakob and Emmanuelle marry, and resolve to make a new life in New York. The Steins build a happy, prosperous life for themselves and their new family, but their pasts cast a long shadow over the present. Years later, as the Sixties are in full swing, their son Max is an ambitious, savvy businessman, determined to throw off the sadness that has hung over his family since his birth. But as Max's life unfolds, he must learn that there is meaning in his heritage that will help shape his future . . ." (Catalogue)

Readers's review: A good read – some insightful looks into WW2 and holocaust.
The labyrinth index / Stross, Charles
"Britain is under New Management. The disbanding of the Laundry – the British espionage agency that deals with supernatural threats, has culminated in the unthinkable – an elder god in residence in 10 Downing Street. But in true 'the enemy of my enemy' fashion, Mhari Murphy finds herself working with His Excellency Nylarlathotep on foreign policy – there are worse things, it seems, than an elder god in power, and they lie in deepest, darkest America .A thousand-mile-wide storm system has blanketed the midwest, and the president is nowhere to be found – Mhari must lead a task force of disgraced Laundry personnel into the storm front to discover the truth. But working for an elder god is never easy, and as the stakes rise, Mhari will soon question exactly where her loyalties really lie." (Catalogue)
Reader's review: Very good. Enjoying characters and story. Great continuation of the series.
Another reader commented: Good political satire aka horror story or paranormal spy thriller.  looking forward to the next in the series.
Death on a Shetland isle / Taylor, Marsali

"Readying her Norwegian sail-training ship, Sorlandet, for a fresh voyage through the Shetland Islands, Cass Lynch has the shock of her life when the new third officer is a ghost from her past – the man she thought she'd left to drown in the Atlantic eleven years before. Cass has an odd feeling about some of the new trainees: a slick city-boy, and a brother and sister. As her distrust of the newcomers deepens, two people go missing and a third is found dead. Struggling to confront the ghosts of her past, the deceased of her present, and the man of her future, Cass must out-manoeuvre the killer before she too becomes one of the victims." (Catalogue)
Reader's review: I enjoyed every page and wanted to catch the next plane/boat and experience the Shetland Islands for myself. Any chance of the library stocking two earlier books?

(These are now on order)