Nau mai, haere mai
Wellington City Libraries presents a free lunchtime kōrero about the history of Te Motu Kairangi (The Miramar peninsula).
The Speaker Morrie Love will mark the signing of Te Tiriti o Waitangi at Te Whanganui-a-Tara, on the 29th April 1840 in his kōrero of Te Motu Kairangi.
Date: Monday 29th April
Place: St Andrew's Conference Centre, Hall (access to the right of the St Andrew's on the Terrace building)
Time:  12:30 – 1:15pm
Enquiries to ann.reweti@wcc.govt.nz
One version of the story of the settlement of the eastern shores of Te Whanaganui-a-Tara by Ngāi Tara, Ngāti Itra is told by Elsdon Best in The land of Tara – we have this digitised version  on our Māori Resource page.
The migrations of iwi and hapū from the East Coast – the stories of Ngāti Porou / Ngāti Kahungunu are a complex acount of journeys, fighting and intermarriage.  "Ngāti Kahungunu" was the blanket label given to the eastern tribes by Te Atiawa as the Taranaki iwi sought to plant their foothold on the western shores and the inner harbour between 1820s and 1840s – up to the arrival of the New Zealand Company and its first six ships of immigrants in 1839-1840.
You can also check out our Te Whanganui-a-Tara index of Māori history and here are some eBooks from our catalogue on 'Te Tirit o Waitangi'.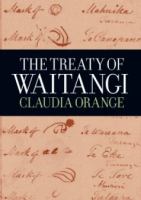 The Treaty of Waitangi / Orange, Claudia
"Since its publication in 1987, Claudia Orange's book has become the standard guide to one of the key documents in New Zealand history, selling over 40,000 copies. The complexities of the Treaty, which have done so much to shape New Zealand history for nearly 200 years, are thoughtfully explored as Orange examines the meanings the document has held for Māori and Pākehā. A new introduction brings it up to date with all that has happened since, complementing the book's lucid and well-researched exploration of how and why the Treaty was signed." (Catalogue)
Treaty of Waitangi [electronic resource] / Calman, Ross
"The book's first two parts consider how the Christian word was spread and how Maori responded, explaining the identification they felt with the Israelites of the Old Testament. The third part relates the rise of indigenous religious movements, from the early Papahurihia through Pai Marire, Ringatu and the Parihaka Movement, and the later incarnations of the Arowhenua Movement in the South Island and what remains today's leading Maori church, Ratana." (Catalogue)
Treaty of Waitangi settlements
"The settlement of iwi claims under the Treaty of Waitangi has drawn international attention, as other nations seek ways to build new relationships between indigenous peoples and the state. Here leading scholars consider the impact of Treaty settlements on the management and ownership of key resources (lands, forests and fisheries); they look at the economic and social consequences for Māori, and the impact of the settlement process on Crown–Māori relationships. And they ask 'how successful has the settlement process been?'" (Catalogue)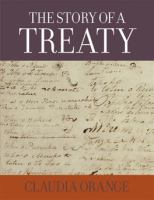 The story of a treaty / Orange, Claudia
"The Treaty of Waitangi is a central document in New Zealand history. This lively account tells the story of the Treaty from its signing in 1840 through the debates and struggles of the nineteenth century to the gathering political momentum of recent decades. The second edition of this popular book brings the story up to the present"–Back cover." (Catalogue)