You've seen the movie, now read the books!
In 2012, Carol Danvers became the latest character to bear the mantle of Captain Marvel, reinvented by prolific comic writer Kelly Sue DeConnick and reimagined with a brand-new space-age costume courtesy of The Wicked + The Divine artist Jamie McKelvie. Carol soared into comic stores with all-new alien-blasting adventures illustrated by the likes of Dexter Soy (Batman Beyond), Emma Rios (Pretty Deadly), and David Lopez (All-New Wolverine), and those stories went on to inspire the blockbuster film.
And now, you can read them all on our eLibrary Overdrive, available to download to your device of choice!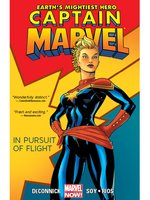 Captain Marvel (2012), Volume 1, Kelly Sue DeConnick (ebook)
Collects Captain Marvel (2012) #1-6. The "Mightiest" of Earth's Mightiest Heroes is back! Ace pilot. Legendary Avenger. Carol Danvers has a new name, a new mission – and all the power she needs to make her own life a living hell. As the new Captain Marvel, Carol is forging from a challenge from her past! It's a firefight in the sky as the Banshee Squadron debut. Witness Captain Marvel in blazing battlefield action that just may change the course of history! Avengers Time Travel Protocols: engage! (adapted from Overdrive description)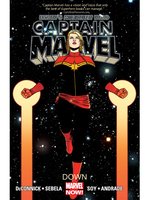 Captain Marvel (2012), Volume 2, Kelly Sue DeConnick (ebook)
Collects Captain Marvel #7-12. Marvel NOW! Captain Marvel goes head to head with…Captain Marvel? Former Captain Monica Rambeau returns, but what's her problem with Earth's new Mightiest Hero? What threat is lurking below the ocean's surface? And can both Captain Marvels stop it before they get ship wrecked? (adapted from Overdrive description)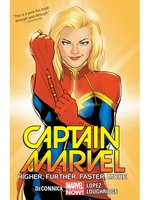 Captain Marvel (2014), Volume 1, Kelly Sue DeConnick (ebook)
Collects Captain Marvel (2014) #1-6. One of Marvel's most beloved Avengers launches into her own ongoing series! Carol Danvers has played many roles in her life; hero, pilot, Avenger, and now, deep-space adventurer! Join Captain Marvel as she attempts to return an alien girl to her home world, and defend the rights of aliens revolting against the Galactic Alliance. Guest-starring Guardians of the Galaxy! (Overdrive description)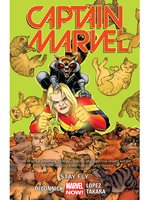 Captain Marvel (2014), Volume 2, Kelly Sue DeConnick (ebook)
Collects Captain Marvel (2014) #7-11. Captain Marvel's space adventure with her pet cat, Chewie, continues! But when they have an unexpected alien visitor, Carol learns that Rocket Raccoon was right: There's more to Chewie than meets the eye! Chewie is a Flerkin…and a mom to hundreds! Is this the end for Carol and her pet? (adapted from Overdrive description)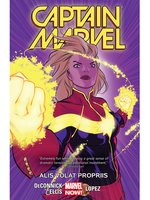 Captain Marvel (2014), Volume 3, Kelly Sue DeConnick (ebook)
Collects Captain Marvel (2014) #12-15. Captain Marvel's time as an astronomical Avenger has pitted her against some of the worst the galaxy has to offer. But now, the Haffensye Consortium has finally caught up to Carol and Tic! Carol was barely able to survive the last time she squared off against the Haffensye — will she be so lucky again? (adapted from Overdrive description)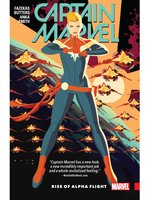 Captain Marvel (2016), Volume 1, Michele Fazekis (ebook)
Collects Captain Marvel (2016) #1-5. Oh Captain, my Captain! Carol Danvers soars higher than ever with her greatest mission yet — leading Earth's first line of defense, the all-new Alpha Flight space program! And some alums of the old-school Flight are along for the ride: Puck, Aurora and Sasquatch! You think your job is tough? Try Captain Marvel's! (adapted from Overdrive description)