Introducing Flint & Steel, published by Maxim Institute. Maxim Institute is an independent research and public policy think tank, working to promote the dignity of every person in New Zealand. These two volumes below are on sustainability, and on community.
On sustainability and what we leave behind.
See what else has recently been added to the sustainability and the environment bookshelves!
Gardening with biochar: supercharge your soil with bioactivated charcoal / Cox, Jeff
"Bio-activated charcoal — called biochar — is the new darling of organic gardeners, embraced for its outstanding abilities to enrich the soil and improve plant growth. Gardening with Biochar is the first comprehensive guide to understanding, making, and using it effectively in the home garden. In this highly accessible handbook, long-time garden writer Jeff Cox explains what biochar is and provides detailed instructions for how it can be made from wood or other kinds of plant material, along with specific guidelines for using it to enrich soil, prevent erosion, and enhance plant growth." (Catalogue)
Green architecture / Jodidio, Philip
"The most exciting new buildings in the world are now almost all environmentally aware, sustainable, and conceived to consume far less energy than ever before. That architecture is one of the major sources of greenhouse gases in the world makes this new trend all the more significant. This book brings the best examples of green projects from the Architecture Now! series together with numerous new, never-seen-before projects. Text in English, French, and German." (Adapted from Catalogue)
Do-it-yourself projects to get you off the grid: rain barrels, chicken coops, solar panels, and more
"Instructables is back with this inspiring book focused on a series of projects designed to get you thinking creatively about going green. Twenty Instructable illustrates just how simple it can be to make your own backyard chicken coop, or turn a wine barrel into a rainwater collector. With dozen of full-colour photographs per project accompanying easy-to-follow instructions, this Instructables collection utilizes the best that the online community has to offer." (Adapted from Catalogue)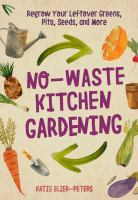 No-waste kitchen gardening: regrow your leftover greens, stalks, seeds, and more / Elzer-Peters, Katie
"The expert advice in No-Waste Kitchen Gardening gives you all the instruction and tricks you'll need to grow and re-propagate produce from food waste. You'll be astonished at how much food waste you can re-grow. Two-part photo instructions show first what the root, chunk seed, or leaf should look like when you re-plant it, and second, when to harvest or re-plant it in soil to continue growing." (Adapted from Catalogue)
Ecovillages around the world
"A beautiful, full-colour book showcasing 20 best practice designs from ecovillages around the world. Highlights the unique features of each project and their solutions to the global social and environmental challenges that confront us." (Adapted from Catalogue)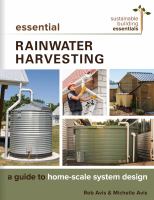 Essential rainwater harvesting: a guide to home-scale system design / Avis, Rob
"Water is a crucial resource increasingly under stress. Yet rainfall, even in arid climates, can make up a sizable portion of any home, acreage, or farm's water requirements if harvested and utilized with care. The key is appropriate planning and high-quality site- and climate-specific design. Essential Rainwater Harvesting is a comprehensive manual for designing, building, and maintaining water harvesting systems for the warm and cold climates of the world." (Adapted from Catalogue)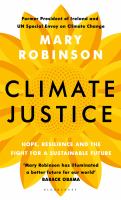 Climate justice: hope, resilience, and the fight for a sustainable future / Robinson, Mary
"Holding her first grandchild in her arms in 2003, Mary Robinson was struck by the uncertainty of the world he had been born into. Before his fiftieth birthday, he would share the planet with more than nine billion people–people battling for food, water, and shelter in an increasingly volatile climate. The faceless, shadowy menace of climate change had become, in an instant, deeply personal." (Adapted from Catalogue)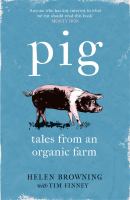 Pig: tales from an organic farm / Browning, Helen
"In a frosty field on the longest night of the year, eight little piglets snuffle their first breaths and jostle close to their mother to feed. Over the six months that follow, lifelong farmer Helen Browning and her partner Tim Finney record their adventures to show how pigs become the mischievous, competitive, intelligent and inventive animals that we know them to be. In doing so, they demonstrate why it is so crucial that the welfare of our farm animals – and equally, the way we manage our countryside – takes centre stage in the contemporary discussions around food, climate change and the loss of wildlife." (Adapted from Catalogue)
Repurposed: New Zealand homes using upcycled materials and spaces / Foster, Cate
"The book features 20 homes located throughout the country that feature a variety of clever solutions and design styles. There is everything from repurposed container homes to army barracks, farm utility buildings, churches and urban spaces finished with upcycled and repurposed furnishings." (Adapted from Catalogue)
Save make do: slash your grocery bill by living sustainably / Webster, Lyn
"If you want to get ahead in life, both financially and sustainably, budgeting guru Lyn Webster can help. In Save Make Do, you will learn- – how to shop smarter- what to grow in your garden- the magic of baking soda and vinegar- 30 handy recipes (meals, treats and snacks; cleaning products and cosmetics)- clever ways to save, save, save With a Save Make Do attitude, you'll soon be on the road to financial freedom – by making simple, healthy and sustainable choices. Make a little go a LOT further. Previously published as Pig Tits & Parsley Sauce" (Catalogue)