In preparation for the Zero Waste event presented by The Rubbish Trip crew, February 13th at Central Library, here are some titles to get you in an eco-mood. We hope they inspire you to live a more sustainable 2019!
Waste not: make a big difference by throwing away less / Erin Rhoads
"We are surrounded by stuff that we often use once and then throw away. But what to do about such a huge problem? Erin went from eating plastic-packaged takeaway while shopping online for fast fashion, to becoming one of Australia's most popular eco-bloggers. Here she shares everything she's learnt from her own funny, inspiring–and far-from-perfect–journey to living with less waste. Including genuinely accessible and easy tips, this book is perfect for both the novice and the eco-aware." (Adapted from catalogue)
No impact man : the adventures of a guilty liberal who attempts to save the planet, and the discoveries he makes about himself and our way of life in the process / Colin Beavan
"Bill McKibben meets Bill Bryson in this seriously engaging look at one man's decision to put his money where his mouth is and go off the grid for one year–while still living in New York City–to see if it's possible to make no net impact on the environment. In other words, no trash, no toxins in the water, no elevators, no subway, no products in packaging, no air-conditioning, no television. Colin Beavan hopes to explain to the rest of us how we can realistically live a more eco-effective' and by turns more content life in an age of inconvenient truths." (Adapted from catalogue)
Zero waste home : the ultimate guide to simplifying your life / Bea Johnson
"This is a guide to simplified, sustainable living from the author of the popular blog zerowastehome.blogspot.co.uk. Living sustainably should not mean forfeiting either comfort or style. In this book, Bea shows what green living looks like and offers a practical, step-by-step guide to diminishing our environmental footprints and improving our lives. It all comes down to the 5 Rs – refuse, reduce, reuse, recycle, and rot." (Adapted from catalogue)
The Earth and I / James Lovelock 
"This illustrated anthology is a guide book for being human in the 21st century. Conceived by James Lovelock, inventor of the Gaia theory, the book encourages holistic understanding. Much as Gaia theory considers our earth as an integrated whole of living systems, The Earth and I brings together an all-star lineup of contributors from across the scientific spectrum to offer wide understanding who and where we are." (Adapted from catalogue)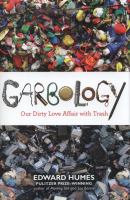 Garbology : our dirty love affair with trash / Edward Humes
"In Garbology, Edward Humes investigates trash; what's in it; how much we pay for it; how we manage to create so much of it; and how some families, communities, and even nations are finding a way back from waste to discover a new kind of prosperity. Garbology reveals not just what we throw away but who we are and where our society is headed." (Adapted from catalogue)
We look forward to seeing you at the event. There will be delicious zero-waste nibbles and a bit of time to meander before the talk begins.