How To Get Published
Join us on Saturday December 1st, 1:30pm at the Central Library for a public talk and Q&A session on "How to get published". There is a great panel for this exciting event made up of top industry experts from New Zealand's publishing industry.
Getting to know the panel
As a precursor to our "How To Get Published" event, we are going to do a weekly feature blog on the members of the panel and their specialist areas of interest in the publishing world.
Get to know this weeks featured panelist: Mary McCallum.
Mary McCallum is the publishing director of two Wellington presses – established Mākaro Press and new The Cuba Press. The two presses cover fiction, poetry, non-fiction, memoir and children's books through a variety of imprints, but she has a particular passion for publishing and editing NZ literary fiction and poetry as she is a novelist and poet herself.
The blue / Mary McCallum.
"Lilian lives in an isolated island community at the mouth of Tory Channel trying to make the best of a life that has at its core a secret grief. It is 1938 and for three months of every year the men take to the sea to hunt whales with fast boats and explosive harpoons. This year, the whales aren't the only ones returning – Lilian's troubled son Micky has come home too. In this rugged, unsettled world, things are not always what they seem." (Adapted from Syndetics summary)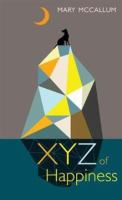 XYZ of happiness / McCallum, Mary
"Poems of happiness… as it comes, when it's missing and when it is hoped for."  (Catalogue)