The classic form of Agatha Christie's Miss Marple is echoed in these crime novels.  A perplexing problem to be untangled by an engaging sleuth.  These titles feature a variety of themes from crafty crime with knitters and quilters to culinary crime featuring caterers and chocolate lovers. The settings range from vineyards to seaside villages to captivate the audience and the plot draws the reader along with the detective in question, from bookshop owner to cat detective to knitting group.
If you enjoy our Cozy Crime Collection why not try exploring cozy mysteries titles in our eBook and eAudio collection through Overdrive.
Wellington City Libraries has a great range of these authors and titles, with recent additions in established series and some newly discovered authors adding a fresh voice to this Mysteries sub genre.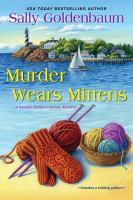 Murder wears mittens / Goldenbaum, Sally
"As autumn washes over coastal Sea Harbor, Massachusetts, the Seaside Knitters anticipate a relaxing off-season. The knitters intend to facilitate a family reunion, not investigate a crime. But the death of Dolores Cardozo, a recluse from the edge of town, throws the group for a loop. Especially when the missing mother and one of their own become tied to the victim's hidden fortune and her murder . . .(Adapted from Catalogue)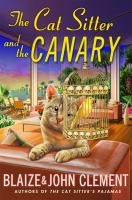 The cat sitter and the canary / Clement, Blaize
"Set in the lush and beautiful island of Siesta Key, with a cast of characters that Dixie fans the world over have come to know and love, The Cat Sitter and the Canary is the latest book by Blaize and her son John Clement. A delightful addition to this critically acclaimed series, The Cat Sitter and the Canary is sure to leave both mystery fans and cat lovers alike purring with delight." (Catalogue)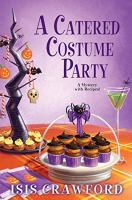 A catered costume party : a mystery with recipes / Crawford, Isis
"When sisters Bernie and Libby Simmons agree to cater an extravagant Halloween party in their little upstate New York town of Longely, they figured a ghost or two and a blood curdling scream might be part of the menu, but they never expected to be haunted by the deadly specter of murder . . . Was it suicide, induced by despair over his missing spouse? Bernie and Libby think not, once they read the note he left–which includes a sum of money and a request for them to "do something" if anything should happen to him. (Adapted from Catalogue)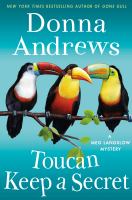 Toucan keep a secret / Andrews, Donna
"Meg Langslow is at Trinity Episcopal locking up after an event and checking on the toucan Meg's friend Rev. Robyn Smith is fostering in her office. After hearing a hammering in the columbarium, Meg finds an elderly parishioner lying dead on the floor of the crypt. Several niches have been chiseled open; several urns knocked out; and amid the spilled ashes is a gold ring with a huge red stone. The curmudgeonly victim had become disgruntled with the church and ranted all over town about taking back his wife's ashes. Did someone who had it in for him follow him to the columbarium? Why was the ruby left behind?"(Catalogue)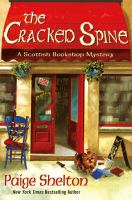 The Cracked Spine / Shelton, Paige
No one was more surprised than Delaney Nichols when she packed her bags and moved halfway across the world to Edinburgh, Scotland to start a job at The Cracked Spine, a bookshop located in the heart of the city. Her new boss, Edwin MacAlister, has given her the opportunity of a lifetime, and Delaney can't wait to take her spot behind the desk. But before she can settle into her new life, a precious artifact goes missing, and Edwin's sister is brutally murdered. Never did Delaney think that searching for things lost could mean a killer, but if she's to keep her job, and protect her new friends, she'll need to learn the truth behind this Scottish tragedy." (Adapted from Catalogue)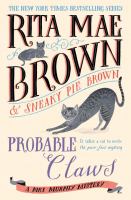 Probable claws / Brown, Rita Mae
"Mary Minor "Harry" Haristeen and her friends and animal companions pursue the threads of a mystery dating back to Virginia's post-Revolutionary past, when their 18th-century predecessors struggled with the challenges of the fledgling country. In the present day, Harry's new friendship with Marvella Lawson, doyenne of the Richmond art world, leads her to rediscover her own creative passions–and reveals evidence of an all too contemporary crime." (Catalogue)
Revenge of the crafty corpse / Winston, Lois
"Anastasia Pollack's dead louse of a spouse has left her with more bills than you can shake a crochet hook at, and teaching craft classes at her mother-in-law's assisted living center seems like a harmless way to supplement her meager income. But when Lyndella Wegner, a 98-year-old know-it-all with a penchant for ruffles and lace is murdered, Anastasia's cantankerous mother-in-law becomes the prime suspect. Upon discovering that Lyndella's X-rated craft projects, and her scandalous behaviormade her plenty of enemies, Anastasia sets out to find the real killer before her mother-in-law ends up behind bars." (Adapted from Catalogue)
X marks the Scot / Dunnett, Kaitlyn
"After she hires an archivist to help her research a treasure map that she found at the Chadwick estate in Moosetookalook, Maine, Scottish Emporium owner Lisa MacCrimmon is horrified when the archivist is murdered, and takes it upon herself to find the killer." (Catalogue)
Bloodroot : a Martha's Vineyard mystery / Riggs, Cynthia
"It's just another day at the dentist's office for Victoria Trumbull when fellow patient, wealthy Mrs. Wilmington, dies. It's an unfortunate, though seemingly not murderous incident, but the receptionist is hysterical, so one of the dental assistants offers to drive her home. But after making a quick pit stop, he finds her body floating in the harbor. With the police shorthanded due to an upcoming presidential visit, it's up to Victoria to take on the case. As she wrestles with her ex-son-in-law, a $3 million will, and a deadly dental clinic, Mrs. Trumbull discovers that nothing in the case is quite what it seems." (Catalogue)