There are many great original characters and stories and worlds built in the medium of graphic novels, and there are also some great adaptions that give literary explorers another dimension to classic works.  Inspired by the recent graphic novel Sabrina being longlisted for the Man Booker, we have a list of some 'literary' titles for you.
Beginning with The Graphic Canon 1 and 2:
The graphic canon. Volume 1, From the epic of Gilgamesh to Shakespeare to Dangerous liaisons 
The graphic canon. Volume 2, From "Kubla Khan" to the Brontë Sisters to The picture of Dorian Gray
These volumes have a wealth of content and contributors.  From folk tales to classic novels; contemporary artists to historical visionaries. Volume 2 includes William Blake with his own images and words. Such an incredible overview!
Don Quixote. Volume1 / Davis, Rob
"A mixture of reality and illusion, this is the story of the besotted Don Quixote and his down-to-earth companion, the faithful Sancho Panza, who set out to right the world's wrongs in knightly combat. The narrative moves from philosophical speculation to broad comedy." (Catalogue)
Herman Melville's Moby Dick / Chabouté
"In striking black-and-white illustrations, Chaboute retells the story of the Great American Novel. Captain Ahab strikes out on a voyage, obsessively seeking revenge on the great white whale that took his leg." (Catalogue)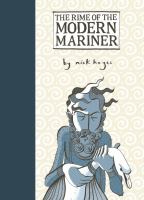 The rime of the modern mariner / Hayes, Nick
"This graphic novel recasts the shimmering horror of Samuel Taylor Coleridge's famous story into a contemporary context. A mariner appears on a park bench and begins his tale. Cursed by an albatross he slew whilst hunting whales, the mariner and his crew find themselves stranded within the North Pacific Garbage Patch: a vast, hypoxic, slow-whirling maelstrom of plastic waste; a hidden repository for the world's litter. Along the way, he meets various characters of our current environmental tragedy: a lady made of oil, a deserted ghost-ship drilling barge, a 2-inch salp (the human race's oceanic ancestor), a blue whale and a hermit. (Catalogue)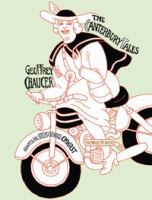 The Canterbury tales / Chwast, Seymour
"Accompany a band of merry medieval pilgrims as they make their way-on motorcycles, of course-to Canterbury. Meeting at the Tabard Inn, the travelers, including a battle-worn knight, a sweetly pretentious prioress, the bawdy Wife of Bath, and an emaciated scholar-clerk, come up with a plan to pass time on the journey to Thomas a Becket's shrine by telling stories.  Chwast's illustrations relate tales of trust and treachery, of piety and bawdiness, in an engaging style that will appeal to those who have enjoyed The Canterbury Tales for years, and those for whom this is a first, delectable introduction." (Catalogue)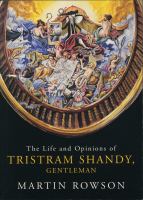 The life and opinions of Tristram Shandy, gentleman / Rowson, Martin
"A novel about writing a novel is the subject of this complex classic which has been described as the greatest shaggy dog story in the English language." (Catalogue)
Howl : a graphic novel / Ginsberg, Allen
The original by Allen Ginsberg caused such a ruckus, there were arrests, an obscenity trial, censorship trials and seizure of material.  Now you can decide for yourself, in colour!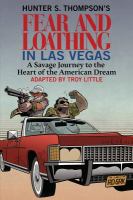 Hunter S. Thompson's Fear and loathing in Las Vegas : a savage journey to the heart of the American dream / Little, Troy
"Records the experiences of a free-lance writer who embarked on a zany journey into the drug culture." (Catalogue)
…and we finish up with an author from Aotearoa New Zealand: Sarah Laing's memoir Mansfield and Me looks at the way literature can affect and influence our lives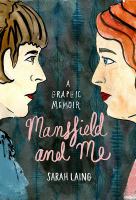 Mansfield and me : a graphic memoir / Laing, Sarah
"Katherine Mansfield is a literary giant in New Zealand-but she had to leave the country to become one… She was as famous for her letters and diaries as for her short stories. Sarah Laing wanted to be a real writer, too. A writer as famous as Katherine Mansfield, but not as tortured. Mansfield and Me charts her journey towards publication and parenthood against Mansfield's dramatic story, set in London, Paris, New York and New Zealand. Part memoir, part biography, part fantasy, it examines how our lives connect to those of our personal heroes. Sarah Laing's gorgeous, playful drawings and self-deprecating humour lightly mask a complex meditation on writing, celebrity and the conscious construction of self. A very New Zealand coming-of-age story." (adapted from catalogue)