Illustrators and storytellers have poured their talents into graphic novels, telling of personal stories in response to terrorism and surgery; grand narratives, mysteries and bursts of imagination that have created worlds. Wellington City Libraries has sifted through and selected a swathe for our shelves. This month has translated international talents, compilations of miniseries presented in one volume, next chapters of current series and a republished title from Aotearoa New Zealand. It was tricky to choose from all our new material, below is a selection of highlights:
The ghost fleet [1] : the whole goddamned thing / Cates, Donny
"When you need to transport the world's most valuable, dangerous, or secretive cargo, you don't call just any trucking service… you call The Ghost Fleet. But when one of the world's most elite combat-trained truckers takes a forbidden peek at his payload, he uncovers a vast conspiracy that threatens not just him, but possibly the entire planet!" (Catalogue)
Previously 1-8 episodes now presented in one volume.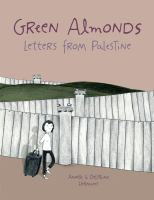 Green almonds : letters from Palestine = Les amandes vertes / Hermans, Anaële
"Green Almonds: Letters from Palestine is a personal look into a complex reality, through the prism of the experience of a young woman writing letters to her sister about her feelings and adventures in the occupied territories. Green Almonds is an intimate story with big implications. A young woman discovers a country, works there, makes friends, lives a love story, and is confronted with the plight of the Palestinians, the violence on a daily basis that we see on our screens and read in our newspapers." (Catalogue)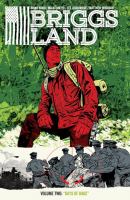 Briggs Land. Volume 2, Lone wolves / Wood, Brian
"Grace Briggs is now the leader of the largest antigovernment secessionist group in the United States, having outmaneuvered both Federal law enforcement and an attempted takeover by white power stormtroopers. But troubles at home remain, and when a chance encounter with innocent civilians blows up into an ugly hostage situation, the privacy and integrity of Briggs Land is compromised. Meanwhile, Jim Briggs, humiliated at losing control of the family, seeks revenge." (Catalogue)
Hicksville : a comic book / Horrocks, Dylan
"World-famous cartoonist Dick Burger has earned millions and become the most powerful man in the comics industry. However, behind his rapid rise to success, there lies a dark and terrible secret, as biographer Leonard Batts discovers when he visits Burger's hometown in remote New Zealand. A rich, and captivating book, one of the best graphic novels of the past decade." (Catalogue)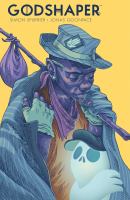 Godshaper / Spurrier, Simon
"In 1958, the laws of physics stopped working. But an alternative was provided, and people found themselves each accompanied by their own personal god, the new fuel and currency of the world. Varying in shape, size, and influence, these companion deities changed everything. Ennay is a man without a god. Bud is a god without a human. Together, they might just survive." (Catalogue)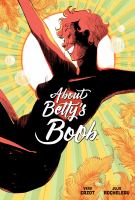 About Betty's boob / Cazot, Vero
"She lost her left breast, her job, and her guy. She does not know it yet, but this is the best day of her life. An inspiring and surprisingly comedic tale of loss and acceptance told largely through silent sequential narrative." (Catalogue)
Out of nothing / Locke, Daniel
"Spanning millennia, Daniel Locke's ambitious graphic novel explores humanity's inherent 'dreaming mind' and its impact on our world. Surreal sequences take us from Gutenberg's printing press to Tim Berners-Lee's World Wide Web via Picasso, Einstein, Grandmaster Flash and more. Locke shows hour our basic instinct to observe, record and connect has formed the basis for all human invention and progress." (Catalogue)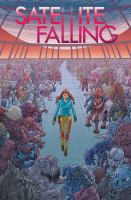 Satellite falling / Horton, Steve
"She's the only human on an alien world… and that's the least of her problems. A sci-fi series filled with grit and wit. She fled a fallen Earth, her lover dead. Now, Lilly makes her way as a cabbie by day and a bounty hunter by night as the sole human on SATELLITE. When Lilly's past catches up with her, it's going to take her and an unlikely band of weird aliens to set things right. What has Lilly gotten herself into?" (Catalogue)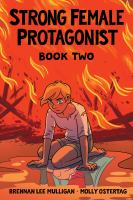 Strong female protagonist. Book two / Mulligan, Brennan Lee
"Alison Green used to be a superhero. With unlimited strength and invulnerablility she fought crime with a group of other teens under the alter ego Mega Girl. All that changed after an encounter with Menace, her mind-reading arch-enemy, who showed her evidence of a sinister conspiracy that made battling giant robots seem suddenly unimportant. Now Alison is going to college in New York City, trying to find ways to actually help the world while making friends and getting to class on time. It's impossible to escape the past however and trouble comes in the form of mysterious murders ex-teammates with a grudge, robots with a straing sense of humor, an inconvenient crush, a contankerous professor, and many different kinds of people who think they know the best way to be a hero." (Catalogue)
And from Mike Mignola, the Hellboy short story collection is featured below: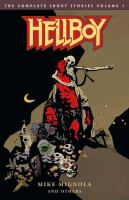 Hellboy : the complete short stories. Volume 1 / Mignola, Michael
"In 1994 Mike Mignola released the first Hellboy series, Seed of Destruction, as Hellboy faced his supposed destiny as Beast of the Apocalypse. Before that, he'd spent fifty years fighting monsters as a somewhat carefree member of the Bureau for Paranormal Research and Defense. The Complete Short Stories volumes 1 & 2 present those early adventures. The Crooked Man and Double Feature of Evil, both of which earned Mignola and his legendary collaborator Richard Corben Eisner Awards, are collected with the complete Hellboy in Mexico saga, featuring collaborations with Corben, Mick McMahon, Gabriel Ba, and Fabio Moon, as well as one of Mignola's early masterpiece, The Corpse." (Catalogue)