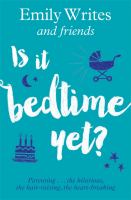 With the new release of  Is it Bed Time Yet? a hilarious and moving collection of writings about being a parent in Aotearoa by Emily Writes and friends, we invite you to come along to the Central Library for a very special author talk!
Come along and have a laugh, share some stories and meet the author herself, Emily Writes. Emily will share a reading from her new book, some stories and answer all of those burning questions, and there might even be a special guest or two!
When and where?
This event will be held at 10:30 am at the Wellington Central Library on Wednesday August 22nd.
Our Baby Rock & Rhyme session with finger dancing and stories runs from 9:30-10:00am in the children's area, so come along for some fun for the little ones first, then head over to the Young Adults area on the ground floor nearby for some fun for yourself.
You can borrow a copy from us or Unity Books will be available during the event to sell copies of Is it Bed Time Yet? and you may even be able to get your copy signed!
About Emily Writes?
Wellington local Emily Writes is a best-selling author, writer, activist, volunteer and a mother of two. Emily has published two books Rants in the Dark: One Tired Mama to Another and Is it Bedtime Yet? with Penguin RandomHouse. She has been the parenting columnist for the New Zealand Herald and the New Zealand Woman's Weekly and has also written for Metro magazine. She is currently editor of The Spinoff Parents and a panelist on The Parenting Hour on Newstalk ZB. Emily founded and runs a not-for-profit/volunteer-run charity called Ballet is for Everyone, which provides free ballet lessons for children from low-income homes and children with disabilities and high health needs. She is an advocate for children's and women's rights, speaker for The Neonatal Trust and Perinatal Depression and Awareness Aotearoa.
Borrow Emily's books: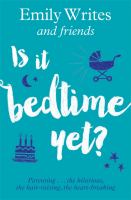 Is it bedtime yet? / Writes, Emily
"The experience of parenthood is different for everyone. And every day can be different too. Read a hilarious and moving collection of perspectives from the well-loved Emily Writes and her friends. Some of them are experienced writers, others have put pen to paper for the first time. If it takes a village to raise a child, then this writing comes from the whole village. Yet every experience is a real one, and you will feel the joy, the horror, the love and the heart-ache as you read about birthday parties, vasectomies, hugs, hospitals and, of course, sleepless nights." (Catalogue)
Rants in the dark : from one tired mama to another / Writes, Emily
"Popular blogger Emily Writes gives words of encouragement to sleep-deprived parents everywhere. With two small boys, both non-sleepers, Emily finds herself awake in the wee small hours night after night. Her writing is often done then, and she offers her own often hilarious and always heart-warming experiences to other exhausted parents. She describes the frustrations as well as the tender moments of real parenting, as opposed to what you thought it was going to be like, or what well-meaning advice-givers tell you it should be like. A must-have for all new parents and parents-to-be. Emily's blogs have been wildly popular, as have her on-line columns with New Zealand Woman's Weekly and The New Zealand Herald." (Catalogue)