…and the longlist includes a graphic novel!
So polish your reading glasses people, or if you're not occularly enhanced, get comfy and prepare to join the judges' dilemma of who wrote it better. Or with the most finesse, or used the most raw material. In short, which of these will be the one to grab you?
Author (country/territory) –  Title (imprint)
Belinda Bauer (UK) – Snap (Bantam Press)
Anna Burns (UK) –  Milkman (Faber & Faber)
Nick Drnaso (USA) – Sabrina (Granta Books) (Graphic Novel)
Esi Edugyan (Canada) – Washington Black (Serpent's Tail)
Guy Gunaratne (UK) – In Our Mad And Furious City (Tinder Press)
Daisy Johnson (UK) – Everything Under (Jonathan Cape)
Rachel Kushner (USA) – The Mars Room (Jonathan Cape)
Sophie Mackintosh (UK) – The Water Cure (Hamish Hamilton)
Michael Ondaatje (Canada) – Warlight (Jonathan Cape)
Richard Powers (USA) – The Overstory (Willian Heinemann)
Robin Robertson (UK) – The Long Take (Picador)
Sally Rooney (Ireland) – Normal People (Faber & Faber)
Donal Ryan (Ireland) – From A Low And Quiet Sea (Doubleday Ireland)
There are some clear favourites amongst Wellington readers.  Warlight by Michael Ondaatje has been one of July's most popular library lends.  Ondaatje recently received the Golden Man Booker for The English Patient.

Warlight / Ondaatje, Michael
"In a narrative as mysterious as memory itself – at once both shadowed and luminous –
Warlight
is a vivid, thrilling novel of violence and love, intrigue and desire. It is 1945, and London is still reeling from the Blitz and years of war. 14-year-old Nathaniel and his sister, Rachel, are apparently abandoned by their parents, left in the care of an enigmatic figure named The Moth.  A dozen years later, Nathaniel begins to uncover all he didn't know or understand in that time, and it is this journey – through reality, recollection, and imagination – that is told in this magnificent novel." (Catalogue)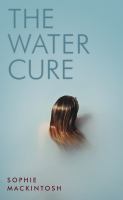 The water cure / Mackintosh, Sophie
Imagine a world very close to our own: where women are not safe in their bodies, where desperate measures are required to raise a daughter. This is the story of Grace, Lia, and Sky kept apart from the world for their own good and taught the terrible things that every woman must learn about love. And it is the story of the men who come to find them – three strangers washed up by the sea, their gazes hungry and insistent, trailing desire and destruction in their wake." (Catalogue)
Snap / Bauer, Belinda
"On a stifling summer's day, eleven-year-old Jack and his two sisters sit in their broken-down car, waiting for their mother to come back and rescue them. Jack's in charge, she'd said. I won't be long. But she doesn't come back. She never comes back. And life as the children know it is changed for ever. Three years later, Jack is still in charge – of his sisters, of supporting them all, of making sure nobody knows they're alone in the house, and – quite suddenly – of finding out the truth about what happened to his mother… " (Catalogue)
The overstory / Powers, Richard
"The Overstory unfolds in concentric rings of interlocking fables that range from antebellum New York to the late twentieth-century Timber Wars of the Pacific Northwest and beyond… There is a world alongside ours – vast, slow, interconnected, resourceful, magnificently inventive and almost invisible to us. This is the story of a handful of people who learn how to see that world and who are drawn up into its unfolding catastrophe." (Adapted from Catalogue)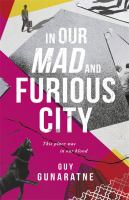 In our mad and furious city / Gunaratne, Guy
"For Selvon, Ardan and Yusuf, growing up under the towers of Stones Estate, summer means what it does anywhere: football, music, freedom. But now, after the killing of a British soldier, riots are spreading across the city, and nowhere is safe. While the fury swirls around them, Selvon and Ardan remain focused on their own obsessions, girls and grime. Their friend Yusuf is caught up in a different tide, a wave of radicalism surging through his local mosque, threatening to carry his troubled brother, Irfan, with it. Provocative, raw, poetic yet tender, In our mad and furious city marks the arrival of a major new talent in fiction." (Catalogue)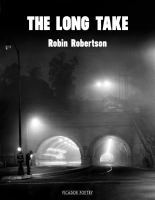 The long take : or, a way to lose more slowly / Robertson, Robin
"Walker, a young Canadian recently demobilised after war and his active service in the Normandy landings and subsequent European operations. Suffering from post-traumatic stress disorder, and unable to face a return to his family home in rural Nova Scotia, he goes in search of freedom, change, anonymity and repair. We follow Walker through a sequence of poems as he moves through post-war American cities of New York, Los Angles and San Francisco." (Syndetics summary)
You can find this title in the Wellington City Libraries poetry collection.