There's nothing like a good explore of the library collection, but where to start? Recently a list of recommendations landed in Central's graphic novel collection featuring movies as a jumping off point into some great graphic stories.
So lets dive in… with the very atmospheric Blade Runner 2049. There are tie-ins with tone, style, setting, the question of android 'vs' human, ethics, them 'vs' us, detective skills and unexpected empathy.

Chris Robertson and Robert Adler are part of a team that has created a six part sequence 
Do Androids dream of Electric Sheep: Dust to dust
exploring the birth of the android hunters, a part of the Blade Runner universe.
Do androids dream of electric sheep? : dust to dust [1] / Roberson, Chris
"Who hunted androids before Dick Deckard? Taking place immediately after World War Terminus ends, the problems with artificial–androids–become apparent. The government decides they must become targets, hunted down, but who will do the dirty work? Two men are assigned: Malcolm Reed, a "special" human with the power to feel others' emotions, and Charlie Victor. Meanwhile Samantha Wu, a Stanford biologist, fights to save the last of the living animals." (Catalogue)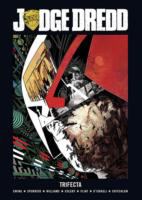 Trifecta : Judge Dredd / Ewing, Al
"Judge Dredd / created by John Wagner & Carlos Ezquerra — The simping detective / created by Simon Spurrier & Frazer Irving — Low life / created by Rob Williams & Henry Flint." (Catalogue)
Compared to le Carre's Tinker, Tailor, Soldier, Spy by some reviewers, this is a presentation of Judge Dredd's world with machinations from clones, corporations and deeds gone wrong. Enjoy!
Pluto : Urasawa X Tezuka. 001 / Urasawa, Naoki
"In a distant future where sentient humanoid robots pass for human, someone or some thing is out to destroy the seven great robots of the world. Europol's top detective Gesicht is assigned to investigate these mysterious robot serial murders—the only catch is that he himself is one of the seven targets." (Catalogue)
Tokyo ghost. Volume one, The atomic garden / Remender, Rick
"The Isles of Los Angles 2089–Humanity is addicted to technology. Getting a virtual buzz is the only thing left to live for, and gangsters run it all. And who do these gangsters turn to when they need their rule enforced? Constables Led Dent and Debbie Decay are about to be given a job that will force them out of the familiar squalor of LA and into the last tech-less country on Earth: The Garden Nation of Tokyo." (Catalogue)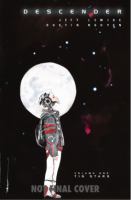 Descender. Book one: Tin stars / Lemire, Jeff
"Young Robot boy TIM-21 and his companions struggle to stay alive in a universe where all androids have been outlawed and bounty hunters lurk on every planet. A rip-roaring and heart-felt cosmic odyssey, Descender pits humanity against machine, and world against world, to create a sprawling epic. Collecting issues #1-6 of Jeff Lemire (Sweet Tooth, Trillium) and Dustin Nguyen's (Little Gotham) critically acclaimed, bestselling new science fiction series" (Catalogue)