New to the world, or new to Wellington City Libraries, these titles from local authors showcase a range of talents, beginning with Fiona Kidman's new book about the 'jukebox killer' in Auckland in 1955. These tales explore New Zealand influences through eras and locations influencing lives we can recognise and feel kinship with.
This mortal boy / Kidman, Fiona
"Albert Black, known as the 'jukebox killer', was only twenty when he was convicted of murdering another young man in a fight at a milk bar in Auckland on 26 July 1955. His crime fuelled growing moral panic about teenagers, and he was to hang less than five months later, the second-to-last person to be executed in New Zealand. But what really happened? Was this a love crime, was it a sign of juvenile delinquency? Or was this dark episode in our recent history more about our society's reaction to outsiders?" (Catalogue)
The new animals / Adam, Pip
"Carla, Sharon and Duey have worked in fashion for longer than they care to remember, for them, there's nothing new under the sun. They're Generation X: tired, cynical and sick of being used. Tommy, Cal and Kurt are Millenials, they've come from nowhere, but with their monied families behind them they're ready to remake fashion. They represent the new sincere, the anti-irony. Both generations are searching for a way out, an alternative to their messed-up reality. Pip Adam's new novel walks the streets of Auckland city now, examining the fashion scene, intergenerational tension and modern life with an unflinching eye." (Catalogue)
Death actually : Death. Love. And in between. / Fenwicke, Rosy
"Maggie never wanted to go into the family business, but when her parents die suddenly and her husband has abandoned her and their two children, what choice does she have? So she becomes a funeral director." (Catalogue)
Set in Queenstown this book encompasses family trials and trivialities with good humour and great characters.
The new ships / Duignan, Kate
"Peter Collie is adrift in the wake of his wife's death. His attempts to understand the turn his life has taken lead him back to the past, to dismaying events on an Amsterdam houseboat in the seventies, returning to New Zealand and meeting Moira, an amateur painter who carried secrets of her own, and to a trip to Europe years later with his family. An unexpected revelation forces Peter to navigate anew his roles as a husband, father and son. Set in Wellington after the fall of the Twin Towers, and traversing London, Europe and the Indian subcontinent, The New Ships is a mesmerising book of blood-ties that stretch across borders. A novel of acute moral choices, it is a rich and compelling meditation on what it means to act, or to fail to act." (Catalogue)
Designer days : a story set in Thorndon, Wellington, 2009 / Mercer, R. D.
"'Down into the dark cave' Laura says to her baby, pushing the buggy into the underpass. Cave paintings? Yes, indeed, but among them some writing she does not expect to find. Laura and Eddie both resist being constrained by the timetables of office or school. They want the freedom to design their own days. Laura, an IT specialist, craves domesticity. Eddie resents being moved to High School in Wellington. Laura's husband, Matt, begins to behave curiously." (Catalogue)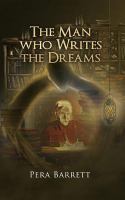 The man who writes the dreams / Barrett, Pera
"A story about following dreams. People have stopped turning their dreams into done-things. Luckily for us, the man who writes the dreams is here to make things right." (Catalogue)
Equinoctial gales : a story set in Wellington, 1939 / Mercer, R. D.

"There were those who liked to refer to the shopping area of Kelburn as 'the village'. It gave it status. Did they have in mind some impossible idyll of an English village of established families, in which people knew their place and weather was predictable? The reality of Kelburn in 1930s New Zealand could not have been more different.  A chance event, a "sudden death", connects the characters in one way or another… But no-one living in Wellington can ignore the weather. They are all affected by its fickleness, its days of violence and its days of blessed calm." (Adapted from Catalogue)
Alternative medicine / Solomon, Laura
"The stories in Alternative Medicine can be broadly defined as black comedy with a twist of surrealism… In 'The Killing Jar' a boy's spider spies on his adulterous father and reports back to its owner. In 'The New Heart' a man experiences somebody else's memories after receiving a heart transplant. The story 'Mandy' features a strangely obsessed protagonist. Everyday sadness at a refugee going blind is sketched out in 'Blindness'. Childhood relationships are depicted in the short story 'Pets' and in 'Piano Lessons/War Stories' the narrator reflects upon her grandfather's time fighting in World War 2.  The stories show human life in various forms and endeavours." (Adapted from catalogue)
Hilary and David / Solomon, Laura
"In Hilary and David, David, a lonely elderly struggling novelist, contacts Hilary, with whom he has a friend in common, via Facebook, and an unlikely friendship develops via a series of messages. The two begin to share details of their past and current lives. Hilary is a solo mother with two children. One of the children has Down's Syndrome and the other has Attention Deficit Hyperactivity Disorder (ADHD). Both are struggling… Through a series of messages, Hilary and David share their thoughts on life, the universe, men, women and everything else in between and provide companionship and advice for one another." (Adapted from Catalogue)