Ada Lovelace Day (October 16th this year) is a day to celebrate the achievements of women in science, technology, engineering and maths. From the Finding Ada website:
Ada Lovelace Day is about sharing stories of women — whether engineers, scientists, technologists or mathematicians
We thought we'd compile a booklist to celebrate — have a read! (And if you have titles you think should be included, let us know!)
Ada, the enchantress of numbers : a selection from the letters of Lord Byron's daughter and her description of the first computer / narrated and edited by Betty A. Toole.
"Toole's book is an excellent introduction to the life and work of the mathematical visionary, Ada Byron King. Toole's treatment allows the reader access to King's luminous mind–no small achievement." (Amazon.co.uk reviewer)
Jane Goodall : the woman who redefined man / Dale Peterson.
"Jane Goodall's discovery in 1960 that chimpanzees in the wild use crude tools meant that ability could no longer be considered a unique and defining characteristic of human beings. Today, as a writer and speaker, she is something akin to a cult icon. As her colleague and former collaborator (Visions of Caliban: On Chimpanzees and People), Peterson had access to a body of personal letters, conversations, and first-person accounts that enabled him to develop an empathy for his subject uncommon in scientific biographies. The picture of Goodall that emerges depicts her complexities she was a coquettish debutante who became a dedicated ethologist comfortable with living in the wilds; an intuitive and self-educated researcher who later matured into a major scientist and world authority on conservation." (Library Journal)
Radioactive : Marie and Pierre Curie : a tale of love and fallout / Lauren Redniss.
(Very neat graphic novel!)
"Presents the professional and private lives of Marie and Pierre Curie, examining their personal struggles, the advancements they made in the world of science, and the issue of radiation in the modern world." (Syndetics summary)
Gorillas in the mist / Dian Fossey
"For thirteen years Dian Fossey lived and worked with Uncle Bert, Flossie, Beethoven, Pantsy and Digit in the remote rain forests of the volcanic Virunga Mountains in Africa, establishing an unprecedented relationship with these shy and affectionate beasts. In her base camp, 10,000 feet above sea-level, she struggled daily with rain, loneliness and the ever-constant threat of poachers who slaughtered her beloved gorillas with horrifying ferocity. African adventure, personal quest and scientific study, Gorillas in the Mist is a unique and intimate glimpse into a vanishing world and a vanishing species." (Amazon.co.uk summary)
Rosalind Franklin : the dark lady of DNA / Brenda Maddox
"In March 1953 Maurice Wilkins of King's College London announced the departure of his obstructive colleague, Rosalind Franklin to rival Cavendish Laboratory scientist, Francis Crick. But it was too late. Franklin's unpublished data and crucial photograph of DNA had already been seen by her competitors at the Cambridge University lab. With the aid of these, plus their own knowledge, Watson and Crick discovered the structure of the molecule that genes are composed of – DNA, the secret of life. Five years later, after more brilliant research under Bernal at Birkbeck College, at the age of thirty-seven, Rosalind died of ovarian cancer. In 1962 Wilkins, Crick and Watson were awarded the Nobel prize for their elucidation of DNA's structure. Franklin's part was forgotten until she was caricatured in Watson's book The Double Helix. In this biography Brenda Maddox has been given unique access to Rosalind's personal correspondence and has interviewed all the principal scientists involved, including Crick, Watson and Wilkins." (Book Jacket)
Ancestral passions : the Leakey family and the quest for humankind's beginnings / Virginia Morell.
(From Wikipedia: Mary Leakey – 1913-1996 – was a British archaeologist and anthropologist, who discovered the first fossilized Proconsul skull, an extinct ape now believed to be ancestral to humans, and also discovered the robust Zinjanthropus skull at Olduvai Gorge. For much of her career, she worked with her husband, Louis Leakey.)
"This is a biography of the first family of anthropology – Louis, Mary and Richard Leakey, whose discoveries have laid the foundations for much of our knowledge about the origins of man. The Leakeys have dominated their science. Not only did each of them make key fossil discoveries, but Louis (who argued that man did not originate on the Eurasian continent tens of thousands of years ago, but was more likely to have evolved in Africa millions of years ago) helped to establish the theoretical groundwork for the science of paleonanthropology. The biography explores the Leakeys many significant finds, as they exposed our ancestry and articulated our relationship to the other primates, especially the early hominids. It also exposes the rivals and jealousies within the family and in relation to other scientists." (Amazon.co.uk)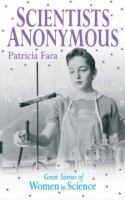 Scientists anonymous : great stories of women in science / Patricia Fara.
"Why, when girls outstrip boys in exams, are there still so few women in the top levels of science? Why have women been excluded and is there still discrimination? Acclaimed science writer and children's author Patricia Fara investigates science past and present to find the answers. She examines women scientists' struggle against unequal opportunities, and shows how they have succeeded despite the obstacles stacked against them. The renowned names are here ? Marie Curie, Florence Nightingale, Rosalind Franklin ? but Scientists Anonymous also reveals the forgotten contributions of many other dedicated and brilliant women. Combining history, science and biography, Fara presents the stories of female explorers, mathematicians, astronomers and chemists from all over the world." (Amazon.co.uk)
Bright star : Beatrice Hill Tinsley, astronomer / Christine Cole Catley.
"Beatrice Hill Tinsley is a famous New Zealander we don't yet know about. She is honoured in the United States and United Kingdom for her pioneering work in the origins of galaxies, the origins of the universe. She built on the work of Einstein and was chosen by Fred Hoyle to keynote the celebrations of his life. She showed astronomers new ways of looking, and taught teachers new ways of teaching. Her life and loves are captured in this first biography, a roller-coaster story of triumph over frustration, and an enduring legacy. Beatrice Hill Tinsley was a professor of astronomy at Yale University and only 40 when she died of cancer in 1981. A lover of nature and a conservationist, she idealised New Zealand. She was also a musician, a feminist, a battler for zero population growth and a champion of the oppressed. As this fully researched biography shows, her life is a fascinating study in the interaction of nature and nurture, genetics and environment. It is also an inspiring and unforgattable picture of a girl determined to be a scientist who grows up in provincial New Zealand and wins through to world renown." (Fishpond summary)
Valley of the dragons : the story of New Zealand's dinosaur woman / Joan Wiffen.
And some web links:
Rear Admiral Grace Hopper (1906-1992), American computer scientist and naval officer. Read about Grace Hopper on  Biography Resource Center & Wikipedia — we like the picture on the Wikipedia article best! Known as the "Grand Old Lady of Software", she developed the first compiler for a programming language, contributed to the development of the COBOL programming language, and is credited with coining the term 'debugging' for computer glitches – the story involves a moth! Have a read.
Limor Fried, MIT engineer and founder of Adafruit Industries. Read this
Interview in April 2011's Wired magazine