Making a something for your beloved or the person whose attention you want to grab is a great tradition in these times of the clamouring heart.
Is doily manipulating the way you've operated in the past? Something created by hand (or foot, if toe painting is your thing) carries a wealth of meaning and sentiment.  Try some new twists on the creative path to romance…
Papercraft is a fanatstically accesible medium, The Pop-up book, by Paul Jackson has some great step-by-step instructions to create an unforgetable gift or card.  He has several other titles in the library if you want to check out origami to enfold a message or paper planes to deliver your rendezvous location.  Use tags for papercraft to discover other authors and titles.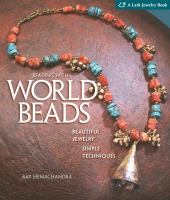 There's some eye pleasing inspiration in Beading with world beads: beautiful jewelry, simple techniques. Wellington has some fantastic sources of beads (google Wellington beads). You could use other stringable items such as shells from your favourite beach or other pieces of interesting flotsam.
If you're looking for a project to keep children busy while you plan a romantic evening, try Gifts from the heart.  Karori library has dibs on this one, so use your card for a reserve to collect it from any branch.  Or peruse the section in the Children's non-fiction area with the call numbers J745.5 onwards.