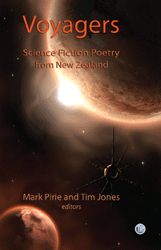 Wellington City Libraries along with IP (Interactive Publications) invite you to the launch of Voyagers: Science Fiction Poetry from New Zealand, on Monday 19th October at 5.30 pm ground floor Central Library, Victoria Street. This amazing anthology is edited by poet, fiction writer, critic and publisher Mark Pirie and Tim Jones, poet and fiction writer, both Wellingtonians. There is an impressive number of New Zealand writers represented in this anthology. The readers for the evening include poets Janis Freegard, Nic Hill, Jack Perkins, Rachel McAlpine, Helen Rickerby, Robin Fry and the editors Mark Pirie and Tim Jones.
The seating will be available on a first come first served based.
So come along and join us for a wonderful evening of poetry.