I've been on a really big video game kick lately, especially enjoying some "indie" games including Fez and The Stanley Parable. Which got me thinking, I really love when different media types get all mashed up into one another. Here, specifically, I'm going to highlight some rad books and movies that feature video games in some way.
The End Games, T. Michael Martin
Seventeen-year-old Michael and his little brother Patrick have been battling the monsters in The Game for weeks. Armed with just a rifle between them, the brothers must follow the instructions of the Game Master, which they hope will lead them to a "safe zone", safe and far away from the terrifying Bellows, the flesh-hungry roaring beasts that roam the land. Michael and Patrick are very good at The Game. They are surviving. But The Game is changing. The Game doesn't play fair.
This book is so exciting, and it uses well-known video game narrative in a novel format, providing us with a thrilling debut novel from T. Michael Martin. Plus, isn't this opening quote great?
Scott Pilgrim's Precious Little Life, Bryan Lee O'Malley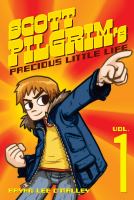 "What are you doing?"
"Getting a life."
You may have seen the awesome movie Scott Pilgrim vs. the World, and this is the first of six graphic novels that spawned the movie. Scott Pilgrim is a bit of a loser, he plays in a band in his friend's garage and shares a bed with his roommate, because Scott can't afford a bed. Or rent. But Wallace has that covered. Then, Scott meets the girl of his dreams – literally. Ramona Flowers rollerblades through Scott's idle daydream and he becomes determined to track her down. But to get to Ramona, Scott must first defeat Ramona's seven evil exes… Not so easy after all.
Scott Pilgrim is so fun because it mashes up video game tropes into its natural narrative. The battles Scott faces with Ramonas exes play out like video game boss battles, and he even earns coins and powerups when he defeats them. The movie is fairly faithful to the books, so watch that if you want, but then ending is different, and the books delve a lot more into little stories that wouldn't fit into the film. Both are fantastic!
Level Up, Gene Luen Yang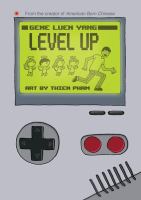 Dennis Ouyang feels crippled by his parents' high expectations of him. They want him to focus on school so he can become a gastroenterologist (a doctor of the digestive system). Dennis wants to play video games. But he does what's expected of him, until his father's sudden death leads him to an academic burnout and gets him kicked out of college. Things are suddenly not so straightforward as they once were, and things keep getting weirder when four sappy greeting card angels appear and take charge of Dennis's life…
Video game tropes have a lot of fun imagery associations so a graphic novel format suits the mashup well, I think!
Ready Player One, Ernest Cline
It's 2044 and the world is a pretty ugly place. Like most of humanity, Wade escapes this grim reality by hooking himself into OASIS, a sprawling virtual reality where you can live and fall in love on any of your choice of ten thousand planets. OASIS holds grim realities of its own though – somewhere in the sprawling virtual world lurks the ultimate lottery ticket, hidden by OASIS creator James Halliday behind a series of perplexing puzzles. The ticket yields immense fortune and power – if you can unlock it. The world is aware only that Halliday's riddles are based on his love of late-20th-century pop culture, and many spend their days idly researching and debating Halliday's idols. Then one day, Wade stumbles across the first clue. Suddenly, the whole world is watching and competing with Wade for the ultimate lottery ticket, many willing to kill Wade to get to it. The race is on, and the stakes are high. Ready, Player One?
The living-in-a-virtual-reality trope has been widely used, and perhaps is bearing closer on our reality than we realise? Time will tell!
Eagle Strike, Anthony Horowitz
You may already be aware of Alex Rider, teen MI6 agent, but if not, here's the lowdown. Alex's uncle was an agent, he was killed, and Alex was brought onboard with MI6. Each book in the series covers a mission assigned to Alex and in Eagle Strike, the fourth book in the series, Alex discovers a plot by popstar-philanthropist Damian Cray to blow up several countries, supposedly for reasons of (obviously crazed) peace activism. Alex has had MI6 backing him up before, but now he's on his own. Can he stop Cray's deadly plan in time?
Although not obviously video game based, Eagle Strike does contain this element – Cray catches Alex eavesdropping on him, so he drops Alex into a real life version of Feathered Serpent, the game Cray had been developing as part of his diabolical plot. Pure evil!
Summer Wars
Kenji is good at maths, bad with girls, and spends most of his time in the sprawling online reality of OZ. He lives an insular life until the girl of his dreams hijacks him to be her fake fiance at her family reunion. During the reunion things only get weirder when a cryptic email is received, unleashing a rogue AI in OZ and falsely implicating Kenji in the hacking. Kenji must halt and restore the damage to the virtual infrastructure and stop the rogue AI, named Love Machine, before it causes irreparable damage.
If you know of any other great books or movies that fit into this theme, let us know in the comments!