You probably know all about The Hunger Games and Divergent by now, right? And if you're anything like me, they hooked you right in and you just can't get enough of those dystopian wastelands. So future, much wow. There are heaps and heaps of really great dystopian novels which lurk in the shadows of their better-know literary cousins, but I'm here to shine a spotlight on a few of them.
Bumped, Megan McCafferty
"In 2036 New Jersey, when teens are expected to become fanatically religious wives and mothers or high-priced Surrogettes for couples made infertile by a widespread virus, sixteen-year-old identical twins Melody and Harmony find in one another the courage to believe they have choices." (from library catalogue)
The first in a trilogy, as dystopias tend to be.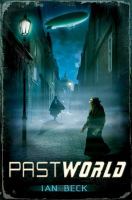 Pastworld, Ian Beck
In 2050, Pastworld is a Victorian London themed park where teenaged Caleb meets 17-year-old Eve, who knows nothing of modern life outside Pastworld. They both become entangled in the diabolical plans of a murderer, revealing disturbing facts about the muddy origins of both Caleb and Eve's lives.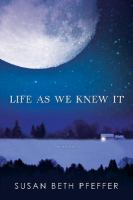 Life As We Knew It, Susan Beth Pfeffer
A meteor hits the moon, throwing it ever so slightly out of sync and causing disastrous havoc for everyone on Earth. Tsunamis, earthquakes and eruptions interrupt every day life what with the moon being out of whack. Told through the diary entries of 16-year-old Miranda, Life As We Knew It explores the struggle of Miranda and her family to survive through this catastrophe.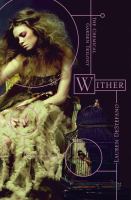 Wither, Lauren DeStefano
Modern science has turned every living human into a genetic timebomb, with men all dying at age twenty-five and women all dying at age twenty. In these cruel and unusual circumstances, young girls are kidnapped and forced to help repopulate the planet. This is the first in the Chemical Garden trilogy.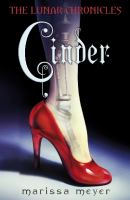 Cinder, Marissa Meyer
Cinder crosses a classic fairytale with cyborgs… Cyborg-ella! Cinder is a gifted cyborg mechanic living in New Beijing. She is reviled by her stepmother and blamed for her stepsister's sudden illness. But when her life becomes entangled with Prince Kai's, she finds herself forced to confront her own past in order to protect Earth's future.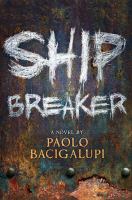 Ship Breaker, Paolo Bacigulupi
Teenage Nailer works as a "ship breaker" scavenging copper from grounded oil tankers. But when he finds a beached clipper ship with a girl aboard, Nailer must decide whether to strip the ship of its worth, or save the girl inside. This one is gritty and harsh and completely action-packed. It also has a follow-up companion novel called The Drowned Cities which takes place in the same universe.
There are so many out there, what are your favourite dystopias?