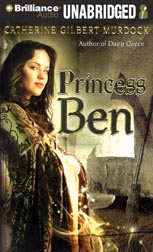 If you like listening to books then you'll be keen to see what's new in the digital audiobook collection: a couple of princesses, some vampires, a high school student who can travel through spacetime to distant territories, and something for Glee fans.
The Looking Glass Wars, Frank Beddor – "Princess Alyss Heart is brutally cast out of Wonderland by her vicious Aunt Redd, who beheads Alyss' mother (Off with her head, she cries!) and begins to rule over Wonderland with an iron fist." (Overdrive catalogue)
Princess Ben, Catherine Gilbert Murdock – "With her parents lost to assassins, Princess Ben ends up under the thumb of the conniving Queen Sophia. Starved and miserable, locked in the castle's highest tower, Ben stumbles upon a mysterious enchanted room. So begins her secret education in the magical arts: mastering an obstinate flying broomstick, furtively emptying the castle pantries, setting her hair on fire…" (Overdrive catalogue)
Also new to Overdrive are: The Strange Power and The Possessed, L J Smith, books one and two of the Dark Visions series, and also all eight books in the Pendragon series by D J McHale. Finally for Glee fans you can listen to the first spin-off book, Glee: The Beginning by Sophia Lowell.
You can browse the Overdrive collection: have a look at the young adult collection, and also the children's fiction collection: start here.
What's Overdrive? It's a collection of digital audiobooks that's available to you for free if you have a WCL library card. It's easy to use: just download the Overdrive media console (kind of like an iTunes equivalent), browse for books and start downloading (each catalogue record will tell you about format and compatibility).