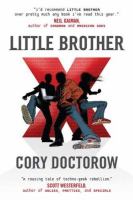 Little Brother is the latest book by Cory Doctorow (and one of last week's New Books). It's about a computer-savvy 17-year-old named Marcus, who is apprehended by the Department of Homeland Security shortly after terrorists blow up a bridge in San Francisco. He is released to a paranoid and martial city, where personal freedoms and the rights guaranteed by the Constitution are ignored in favour of 'security'. Marcus and his friends are able to use their knowledge of computers and technology to subvert the government's increasing authoritarianism and regain their freedom.
It's an exciting, well-paced thriller, and much of the technology used in the book has an element of truth;if you're interested in the 'techno-counterculture', this book is a good place to start. (It has a little romance as well, so it's not all about computers!)
The best part is that the entire book can be downloaded for free! Oh nice.