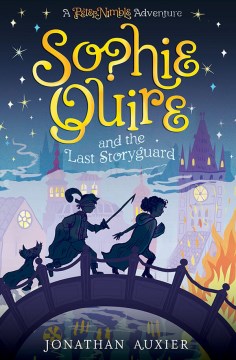 Sophie Quire and the last Storyguard, by Jonathan Auxier
Wow! This book was a real gripper, it made me scared and happy and I almost fell off my bed! (Okay, people don't normally say that but the saying goes "I was hanging onto my chair," or falling off it, but I wasn't sitting on a chair, I was reading in bed.)
Sophie loves loves LOVES books. (like me! EXACTLY LIKE ME!) To the point that it makes her dangerous (apparently). Her father owns a bookshop. She has no idea what happened to her mother as her father refuses to talk about her. So.
Peter Nimble is a cunning and very good thief. He has been so for most of his life. He can pickpocket any pocket and rob any house. He doesn't have a mother or father either. (More can be found about him in the book Peter Nimble and his Fantastic Eyes). So.
Evil Inquisitor Prigg is trying to get rid of ALL storybooks, starting up a "No Nonsense" campaign. Sophie and her dad are in trouble. So.
Peter and Sophie quickly meet and become not friends, but not enemies either. They are sent on a quest to find four books – the Book of Who, What, Where and Why. (I think that's right, anyway). It is a dangerous journey, especially since Sophie's mum (as she finds out EVENTUALLY from her irritatingly quiet dad) was murdered by someone desperate to get to the Book of Who.
Sophie and Peter (and Sir Tode, a kind of horse cat) have to save the world before the world is destroyed forever, (NO BOOKS! NO BOOKS! NOOOOOOO BOOOOOKS!!)
Read this thrilling and heartstopping book to find out more!
5 stars
Reviewed by Tiger from Cummings Park and , 11 years old