Our experience of the world is for a lot of us, mostly visual. This year, we have discovered sports with new eyes, thanks to the latest digital technology lavished on the 2012 Olympics. We have enjoyed London in summer, its lush parks and treelined avenues, filled for the occasion with a myriad of athletes and their supporters. Some of this month's books let us revisit and expand on these impressions, reflecting on the power and place of photography in our contemporary world.
We also pay tribute to Magnum photographer Martine Franck, who died a few weeks ago.
In the moment, the Sports Photography of Tom Jenkins.
In this period of Sports extravaganza, we have all been fed thousands of images per day, mainly on screens (be it computer, smart phones, television etc) and you may think that this book is just one too many stimulus. On the contrary, I would argue that this book is a reflective pause at a time when we may be better armed to appreciate a powerful image among a sea of mere documents. 
As Jenkins says: "I can sit next to guys with cameras at a cricket match now who're hosing down every single ball, and they're still not getting the picture. They are not really looking, not analysing what's going on. It's like going fishing and putting so much bait out that you're bound to catch something. But that's not how it works." This could trigger a debate on the value of images created by robot cameras as we have seen for the first time in the coverage of the Olympics in London. One to ponder.
Furthermore, in today's digital age, sitting quietly with a book on my lap, browsing through the object, feeling the pages turning and discovering what each spread has to offer, going back and forth from cover to cover is a rare moment of intimate enjoyment of an artist's work. 
In a quote found on the inside jacket of the book, Jonny Wilkinson sums up the amazing power of Tom Jenkins' photography, perfectly conveyed in this collection spanning the 20 years of this sport photography icon.
The essence of an event, the raw emotions elicited by a memorable moment are for all to admire and share in this collection of  arresting  photographs that go beyond the mere spectacle. Tom Jenkins has definitely mastered all the fascets of the art of seeing, in his chosen field of sport.
After a forthnight of sports image overload, this book offers a suspended moment of reflection. Far from being redundant, it reminds us of the place that books will always have, not the only place anymore, but a cherished, ever more special place, among the plethora of media that I feel complement  and bring the best in each other.
London, Portrait of a City
"Apart from the sports, the 2012 Olympics' other star has been London. What a timely arrival in our collection! Following on the footsteps of its New York publication, London gets the grand Taschen treatment. A hefty book that will sit proudly on the coffee table, enticing the viewer to stop and contemplate a few pages at a time. London's remarkable history, architecture, landmarks, streets, style, cool, swagger, and stalwart residents are pictured in hundreds of compelling photographs sourced from a wide array of archives around the world." – (Adapted from Amazon.com)
Masterclass Arnold Newman
For more than sixty years Newman was recognized by regular publication in the most influential magazines of the day, major solo exhibitions and appearances in many of the world's most prestigious photography collections. This landmark publication – the first monograph to be published after Newman's death in 2006 – is packed with iconic images and includes a preface by Todd Brandow and short biographies of Newman's sitters by Corinne Currat. More than 200 mainly black-and-white photographs, including dozens never before seen in book form, showcase the photographer's remarkable talent. Famous sitters range from painters, writers and musicians to businessmen, bankers and leaders of industry, and include Truman Capote, Marc Chagall, 
J. F. Kennedy, Marilyn Monroe, Pablo Picasso, Igor Stravinsky and Andy Warhol. Individual and group portraits are represented in the book, as well as abstracts, landscapes, architectural 
details and cityscapes. Two essays by William A. Ewing shed light on Newman's growing practice; Arthur Ollman provides an informative and entertaining look back at an old friend; and David Coleman focuses on an important national commission undertaken by the photographer. (Adapted from publisher)
Martine Franck, a tribute
Only last February were we commemorating the life of Eve Arnold, Magnum's first woman photographer. Today we look at Martine Frank's contribution to the prestigious photo agency and to photography more generally. Martine Frank died this August at the age of 74, leaving a very wide body of work where celebrities and ordinary folk featured as prominently. She was recognised for her sensitive and compassionate eye as well as for her aesthetic rigour, cultivated from an early artistic background.  This book by  Louise Baring, unassuming by its size, perfectly suits Franck's humble yet strickingly insightful images. It offers quality prints representing of a comprenhensive range of her photo essays, a concise yet informative biographical essay and ends with a 2 page chronology of her life. For further information on this important photographer, visit Martine Franck obituary on The Guardian and Magnum's agency page dedicated to Franck.
Photography Changes Everything
Photography Changes Everything
—drawn from the online Smithsonian Photography Initiative—offers a provocative rethinking of photography's impact on our culture and our lives. It is a reader-friendly exploration of the many ways photographs package information and values, demand and hold attention, and shape our knowledge of and experience in the world.
At this transitional moment in visual culture,
Photography Changes Everything
 provides a unique opportunity to better understand the history, practice, and power of photography. The publication harnesses the extraordinary visual assets of the Smithsonian Institution's museums, science centers, and archives to trigger an unprecedented and interdisciplinary dialogue about how photography does more than record the world—it shapes and changes every aspect of our experience of it.
The book features nearly one hundred engaging short texts commissioned from experts, writers, inventors, public figures, and everyday folk. Each story responds to images selected by project contributors. Together they engage readers in a timely exploration of the extent to which our lives have been transformed through our interactions with photographic imagery. (Adapted from publisher) 
 Light Years – Conceptual Art and the Photograph 1964-1977
This catalog of an exhibition organized by the Art Institute of Chicago explores how a diverse group of international artists, beginning in the 1960s, used photographic images and investigated the medium of photography in the conceptual art movement. Edited by Witkovsky (curator & chair, photography, Art Inst. of Chicago), six essays consider aspects of photography that intrigued the artists (including tourism and travel photography, photography as mass medium, the depiction of the human figure), and readers are invited to consider why these artists pursued the new paths they did. The numerous photographs (both in color and black and white) are a pleasure to view, and the artists' efforts to gather and put forth their ideas, as well as their diversity of approaches, are fascinating.  (Adapted from Library Journals LLC) 
Michael Freeman's Photo School – Digital Editing
A diminutive publication, this book is a perfect , no-nonsense companion to better photography for those who may find other photography manuals overwhelming and may not have time for a 500 page bible.
Part of a series designed as a foundation course on the fundamentals of photography, its aim is to inform and inspire. 
Manageable, bitesize chapters take you straight to the point, starting with a general explanation of the topic (e.g. Sharpening), followed by a "Challenge" where the reader is invited to pratice the theory, concluded by a "Review" where examples of other "students" work are discussed. A natural progression through the book combines concepts previously learnt, leading to more complex exercises as the reader moves on.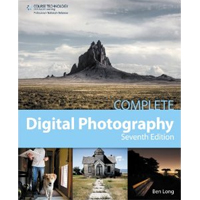 Complete Digital Photography
As the title indicates, this book is closer to the bible type. If you are looking for one title that will cover most of today's technical aspects of digital photography, this book should definitely be high on the list. In its 7th edition, Ben Long's now established title brings excellent, up-to-date information on all aspects of digital photography, from camera controls to image transfer, flash lighting, using metadata to improve your photography, image editing and preparing for printing. Supported by online resources, this book will help you experiment with examples discussed in the various chapters.