Scottish crime novels cover a wide diversity of styles and themes. Ranging from gritty neo-realistic urban crime novels, exemplified by writers like Stuart McBride, to a much more genteel pastoral style from M. C. Beaton and Joyce Holm. There are also mavericks in the genre, people like Christopher Brookmyre, who taps into a rich and deep vein of black Scottish satirical humour in his thrilling works. Another person who explores different aspects of the genre is Paul Johnson, whose body politic merges the genres of crime and science fiction in a peculiarly Scottish fashion. Perhaps one of the best indicators for the popularity is the large variety of works translated into film and television series, such as M. C. Beaton's Hamish Macbeth. 
If you'd like to give these authors a try, check out our Tartan Noir display in the Fiction area at Central Library on the ground floor. Our displays change around frequently, so now is the perfect time to come and browse these Scottish crime authors all in one place.
Keen to try some of these authors online? Wellington City Libraries' collection on Overdrive has a Tartan Noir list with audiobooks and eBooks free to download or listen to online.
Wellington is welcoming Scottish crime author Denise Minain a LitCrawl event in early September. This will be a chance to hear one of Scotland's great contemporary writers, don't miss out!

Bloody Scotland
"A collection of crime stories set in iconic Scottish structures." (Catalogue)
From Edinburgh Castle to the Fourth Bridge these short stories from a range of authors will introduce you to well known Scottish places through the voices of Scottish crime writers including Val McDermid, Doug Johnstone, Stuart MacBride and more.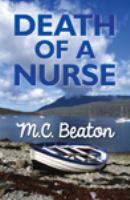 Death of a nurse / Beaton, M. C
"James Harrison has recently moved to a restored hunting lodge in Sutherland with his gorgeous private nurse Gloria Dainty. When Hamish visits Mr Harrison to welcome him to the neighbourhood, the old man treats him very rudely. Gloria apologises for her employer's behaviour, and Hamish invites her out for dinner. Hamish waits for Gloria at the appointed restaurant. And waits. But Gloria never shows up. Four days later, her body washes up on the beach near Braikie. Hamish must find out who killed the beautiful new resident of Sutherland, and why, before the murderer strikes again." (Catalogue)
Want you gone / Brookmyre, Christopher
"What if all your secrets were put online? Sam Morpeth is growing up way too fast, left to fend for a younger sister with learning difficulties when their mother goes to prison. But Sam learns what it is to be truly powerless when a stranger begins to blackmail her online. Meanwhile, reporter Jack Parlabane has finally got his career back on track, but his success has left him indebted to a volatile source on the wrong side of the law. Thrown together by a mutual enemy, Sam and Jack are about to discover they have more in common than they realise – and might be each other's only hope." (Catalogue)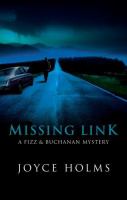 Missing link / Holms, Joyce
"A puzzling new case for sparkling detective duo Fizz and Buchanan. Always in search of a good story, Fizz Fitzgerald finds it hard to hide her impatience when elderly Mrs. Sullivan is shown into her office. Genteel and motherly, Mrs. Sullivan can only spell one thing: boredom. Fizz is more than shocked, therefore, when Mrs. Sullivan asks Fizz to help prove her guilty of murder. Could this story be too good to be true? Fizz is determined to get to the bottom of this mystery and ropes in long-suffering partner-in-crime, Tam Buchanan." (Catalogue)
Skeleton blues : a Quint Dalrymple mystery / Johnston, Paul
"Independent Edinburgh, spring 2034. The weather's balmy, there's a referendum on whether to join a reconstituted Scotland coming up — and a tourist is found garotted. As usual, maverick detective Quint Dalrymple is called in to do the Council of City Guardians' dirty work. For the first time in his career, Quint is stumped by the complexity of the case. An explosion at the City Zoo is followed by the discovery of another body, and the prime suspect is nowhere to be found." (Catalogue)
The long drop : a novel / Mina, Denise
"William Watt's wife, daughter, and sister-in-law are dead, slaughtered in their own home in a brutal crime that scandalized Glasgow. Despite an ironclad alibi, police zero in on Watt as the primary suspect, but he maintains his innocence. Distraught and desperate to clear his name, Watt puts out a bounty for information that will lead him to the real killer. Based on true events, The long drop is an explosive, unsettling novel about guilt, innocence and the power of a good story to hide the difference." (Catalogue)