'New adult' is a new genre of fiction I've been hearing about lately.  It tends to be relationship, social-life focused fiction aimed at twenty-somethings or young adults, but too racy for our Young Adult collections.  I would call it an erotica-chick lit hybrid.  Let's take a look at some of these new emerging adult books.
Be With Me
J Lynn is a big name in this genre and we have a few of her New Adult books (Wait for You and Trust in Me, ebooks too in our Overdrive elibrary) . She also writes as Jennifer Armentrout, of the Lux Young Adult series.  Be With Me follows Theresa Hamilton who "is having a rough year—she's in love with her big brother's best friend, but he hasn't spoken to her since they shared a truly amazing, mind-blowing, life-changing kiss" (Amazon.com).  The brother's best friend and the story's other protagonist is Jase Winstead who has a "huge secret that he's not telling anyone—especially not his best friend's incredibly beautiful sister.  Even though he and Teresa shared the hottest kiss of his life, he knows that his responsibilities must take priority" (Amazon.com).   And there you go!  We learn of their tumultuous fledgling relationship and the mega-drama that ensues.  Literary it's not, but a jolly fun read it is.
Sweet thing
This is a similar love, finding-one's-self story.  It's about Ivy League graduate and musician Mia Kelly, who's unsure about what career to pursue – music or business.  Mia finds herself even more confused when her father dies and she decides to take over his cafe.  The cafe is a frequent hangout for musicians and there Mia meets Will.  Sexy, romance follows.  The characters are enjoyable and the story well written (this is no 50 Shades of Grey).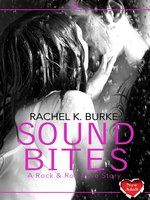 Sound Bites, by Rachel K Burke (eBook)
This book is available as an ebook from the Overdrive elibrary.  It's recommended for fans of J Lynn and follows the same story as those above – a young woman with relationship woes, troubled bad-boy musicians and LOVE.  A fun, slightly predictable, contemporary romance.