This month the holiday titles are already rolling in, so if you want to start on your holiday reading list we have some great new crime titles for you. James Patterson's The Women's Murder club's 19th edition is focused on the Christmas holidays where a lull in crime is a misleading start to season, a roller coaster ride is about to begin as a formidable criminal sets a plan into action that will culminate on Christmas day! David Rosenfelt brings levity to the season with a fun cozy mystery where canine companions are the way into solving human problems. Daschshund through the snow brings out the skills of Andy and Laurie as the reticent and enthusiastic try to bring hope and resolution to those around them despite the odds.
Susanna Gregory and Paul Doherty conjour up the social and political realities British history for the medieval and Stuart eras where church and royalty governed the pattern of people's lives. Gregory writes as the aftermath of the plague has hollowed out 1666 London and Thomas Chalinor feels the city is in a precarious situation. Facing social unrest and political intrigue he attempts to unravel three seemingly unrelated crimes. Paul Doherty has richly illustrated the medieval era in this novel of dark suspense. The tensions in the Welsh Holyrood Abbey run high where Edward I's body guards are conducting themselves as monks. Murderous events begin to play out and Sir Hugh Corbett, Keeper of the Secret Seal is detailed to seek out answers.
Other crime titles lead readers through unlawful acts as personal tensions and past grievances are played out in the countryside and inside city limits.  From scrapbook murder sleuths to experienced police investigators this selection of crime novels has something for all readers to enjoy.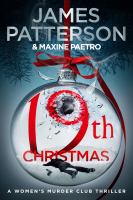 The 19th Christmas / Patterson, James
"As the holidays approach, Detective Lindsay Boxer and her friends in the Women's Murder Club have much to celebrate. Even the courts are showing some Christmas spirit. Then a fearsome criminal known only as "Loman" seizes control of the headlines. He is planning a deadly surprise for Christmas morning. Solving crimes never happens on schedule, but as this criminal mastermind unleashes credible threats by the hour, the month of December is upended for the Women's Murder Club. Avoiding tragedy is the only holiday miracle they seek." (Adapted from catalogue)
Intrigue in Covent Garden / Gregory, Susanna
"By January 1666, the plague has almost disappeared from London, leaving its surviving population diminished and in poverty. Thomas Chalinor is investigating several unrelated crimes at he behest of his employer. Common threads in all the cases, which seem linked to those planning to set a match to the powder keg of rebellion in the city. Chalinor is in a race against time to prevent the weakened city from utter destruction."  (Adapted from catalogue)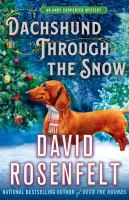 Dachshund through the snow / Rosenfelt, David (print), (eAudiobook)
"Lawyer Andy Carpenter and his wife, Laurie, generously give back year-round, but they always try to do a little something extra around the holidays. Andy's local pet store has a Christmas tree, where instead of ornaments there are wishes from those in need. This leads Andy to six-year-old Adam, whose selfless plea strikes a chord with Andy and Laurie. With his trademark humor and larger-than-life characters, Rosenfelt never fails to deliver as Andy and his eccentric crew dash to reunite a family in time for Christmas." (Adapted from catalogue)
Mumbo gumbo murder / Laura Childs, with Terrie Farley Moran.
"It's Jazz Fest in New Orleans, and giant puppets are parading through the French Quarter. As the parade proceeds, Carmela Bertrand and her best friend, Ava, follow behind, down Royal Street. Suddenly, they hear a terrible crash from Devon Dowling's antiques shop. After the police examine Devon's body, they tell Carmela and Ava that their friend was murdered with an icepick. Carmela and Ava are determined to catch the murderer, but how long do they have before they find themselves on the killer's list?" (Adapted from catalogue)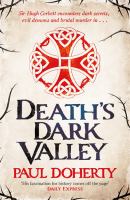 Death's dark valley / Doherty, P. C
"At Holyrood Abbey, the old king's former bodyguards watch over a mysterious prisoner who is kept in the abbey's dungeon. But their peaceful existence is shattered when Abbot Henry is poisoned. Summoned to Holyrood, Sir Hugh Corbett finds the fortress in chaos. As more mysterious deaths occur, and a violent snow storm sweeps through the valley, Corbett must act quickly to identify the malevolent demon who has risen from hell to turn the abbey into a house of murder." (Adapted from catalogue)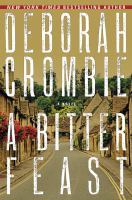 A bitter feast : a novel / Crombie, Deborah
"Scotland Yard Detective Superintendent Duncan Kincaid and his wife, Detective Inspector Gemma James and their children are guests at the country estate belonging to the family of Melody Talbot. A centerpiece of this getaway is a charity luncheon catered by up-and-coming chef Viv Holland. But a tragic car accident followed by a series of mysterious deaths could ruin her ascent. Each piece of information that surfaces makes it clear that the killer had a connection with Viv's pub, and perhaps with Beck House itself.  With so much at stake both personally and professionally, especially for Melody Talbot, finding the killer becomes one of the team's most crucial cases." (Adapted from catalogue)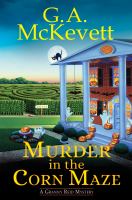 Murder in the corn maze / McKevett, G. A
"After joining the other townspeople for trick-or-treating and the annual parade, Granny Reid and the kids head to Judge Patterson's mansion, where a corn maze awaits. Most of the youngsters are too terrified to make it all the way to the middle. When Savannah and Granny get there, it proves to be even scarier than they expected–half buried in the mud at the center of the maze lies a human skull. It'll be up to Granny to dig into this Southern town's history and a mess of old family secrets." (Adapted from catalogue)
Stone cold heart : a novel / Frear, Caz (print), (eBook)
"A young Australian woman turns up dead after a party thrown by her new boss. The initial investigation points to Joseph Madden, the owner of a coffee shop around the corner from police headquarters. Madden insists he's innocent, that he was home with his wife Rachel at the time of the murder. But Rachel contradicts his alibi, swearing that she was home alone. As she tries to balance the demands of the investigation with a budding romance and unresolved family drama, Cat has to decide how far she'll go to keep her own past mistakes buried." (Adapted from catalogue)