This month our new fiction selection offers humour and tragedy with authors that craft tales to confront and amuse. Travelling to new lives, the characters of Christy Lefteri and polyglot Pajtim Statovci reveal two very different tales of escape from Syria in The Beekeeper of Aleppo and European peregrinations in Crossings as politics and violence carve new and unexpected paths. These authors have lived the lives of their characters through emigration and profession, the absurd coincidences of real life enhance their writing.
Colson Whitehead relates the brutal reality of a segregation era reform school in The Nickel Boys. Inspired by horrific events that transpired at the real-life Dozier School for Boys, Whitehead's brilliant examination of America's history of violence is a stunning novel of impeccable language and startling insight.
The talented Deborah Moggach, script writer and serial inspiration for movies, Tulip Fever and The Best Exotic Marigold Hotel has written on the ever expanding care for the elderly in The Carer. And the transformative Elizabeth Gilbert of Eat, Pray, Love fame writes on female self determination with a flair for the theatrical 1940's. Other selections delve into espionage, undertaking and small town justice, a wealth of enjoyment to discover. Enjoy!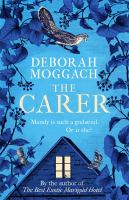 The carer / Moggach, Deborah
"James is getting on a bit and needs full-time help. So Phoebe and Robert, his middle-aged offspring, employ Mandy, who seems willing to take him off their hands. But as James regales his family with tales of Mandy's virtues, their shopping trips, and the shared pleasure of their journeys to garden centres, Phoebe and Robert sense something is amiss. Is this really their father, the distant figure who never once turned up for a sports day? Phoebe and Robert discover that life most definitely does not stop for the elderly." (Adapted from Catalogue)
The Nickel boys : a novel / Whitehead, Colson
"Elwood Curtis has taken the words of Dr Martin Luther King to heart: he is as good as anyone. But given the time and the place, one innocent mistake is enough to destroy his future, and so Elwood arrives at The Nickel Academy. Based on the real story of a reform school in Florida that operated for one hundred and eleven years and warped the lives of thousands of children, The Nickel Boys is a devastating, driven narrative that showcases a great American novelist writing at the height of his powers." (Adapted from Catalogue)
Joe Country / Herron, Mick
"If Spook Street is where spies live, Joe Country is where they go to die. In Regent's Park, Diana Taverner's tenure as First Desk is running into difficulties. If she's going to make the Service fit for purpose, she might have to make deals with a familiar old devil. Jackson Lamb would sooner be left brooding in peace, but even he can't ignore the dried blood on his carpets. So when the man responsible breaks cover at last, Lamb sends the slow horses out to even the score." (Adapted from Catalogue)
Beirut Hellfire Society : a novel / Hage, Rawi
"When his father meets a sudden and untimely death, Pavlov, the son of a local undertaker is approached by a colorful member of the mysterious Hellfire Society, an anti-religious sect that, among many rebellious and often salacious activities, arranges secret burial for outcasts who have been denied last rites because of their religion or sexuality. Deftly combining comedy with tragedy, gritty reality with surreal absurdity, Beirut Hellfire Society asks: What, after all, can be preserved in the face of certain change and imminent death?" (Adapted from Catalogue)
The care and feeding of ravenously hungry girls / Gray, Anissa
"The Butler family has had their share of trials, as sisters Althea, Viola, and Lillian can attest.  Althea, the eldest sister and substitute matriarch, is a force to be reckoned with and her younger sisters have alternately appreciated and chafed at her strong will. They are as stunned as the rest of the small community when she and her husband Proctor are arrested, and in a heartbeat the family goes from one of the most respected in town to utter disgrace." (Adapted from Catalogue)
The beekeeper of Aleppo / Christy Lefteri.
"Nuri is a beekeeper; his wife, Afra, an artist. They live a simple life, rich in family and friends, in the beautiful Syrian city of Aleppo. When all they care for is destroyed by war, they are forced to escape. Nuri is sustained by the knowledge that waiting for them is Mustafa, his cousin and business partner, who has started an apiary and is teaching fellow refugees in Yorkshire to keep bees. As Nuri and Afra travel, they must confront not only the pain of their own unspeakable loss, but dangers that would overwhelm the bravest of souls." (Adapted from Catalogue)
City of girls / Gilbert, Elizabeth (print) (eBook) (eAudiobook)
"In 1940, nineteen-year-old Vivian Morris has just been kicked out of Vassar College. Her affluent parents send her to Manhattan to live with her Aunt Peg, who owns a theater called the Lily Playhouse. There Vivian is introduced to an entire cosmos of unconventional and charismatic characters. But when Vivian makes a personal mistake that results in professional scandal, it turns her new world upside down in ways that it will take her years to fully understand. It will also lead to the love of her life, a love that stands out from all the rest." (Catalogue)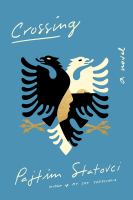 Crossing / Statovci, Pajtim
"In the devastation of post-Communist Albania, Bujar and Agim feel trapped: Bujar struggling to come to terms with the loss of his father, Agim facing dangerous realizations about his sexuality and his feelings for Bujar. When shame and guilt push Bujar and Agim to leave everything behind, the unfamiliar life of an immigrant and asylum seeker sets Bujar on a path of reinvention. But Bujar's quest for identity and belonging is haunted by the mystery of what happened to Agim–his one, true beloved." (Adapted from Catalogue)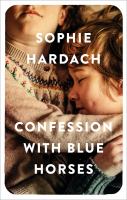 Confession with blue horses / Hardach, Sophie
"Tobi and Ella's childhood in East Berlin is shrouded in mystery, their past in full of unanswered questions. Both remember their family's daring and terrifying attempt to escape. Where did their parents disappear to, and why? And was there ever a painting of three blue horses? In contemporary Germany, Aaron works for the archive, piecing together the tragic history of thousands of families. But one file in particular catches his eye, unravelling the secrets at its heart becomes an obsession." (Adapted from Catalogue)