Dire consequences and sweet rewards–welcome to our latest crop of thrillers!
With its landlines and lack of internet, Domino Island by Desmond Bagley may encapsulate 1972, but its political tension is as fresh and relevant as the day it was written. This previously unpublished title was long considered lost, and its reappearance after 40 years has reinvigorated the genre with its craftsmanship, authenticity and expertise. Domino Island was curated by Michael Davies, taking the 1972 typewritten pencil annotated first draft into completion.
Legal loopholes, terrifying coincidence and deadly subterfuge run through the rest of this month's thriller picks, with deadly foes and locations that will seize your imagination. You've been warned!
Domino Island / Bagley, Desmond (print), (eBook)
"Bill Kemp, an ex-serviceman working in London as an insurance investigator, is sent to the Caribbean to verify a claim that will make property magnate David Salton's young widow a very rich lady. Salton's political ambitions had made him a lot of enemies, and that his friends are reluctant to reveal themselves, local tensions around the forthcoming elections spill over into protest and violence on the streets – and murder." (Adapted from catalogue)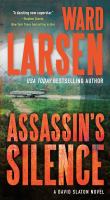 Assassin's silence / Larsen, Ward (print), (eBook)
"When it comes to disappearing, David Slaton has few equals. Police in three countries have written off trying to find him. So when an assault team strikes, Slaton is taken by surprise. He kills one man and manages to escape. Half a world away, an obscure air cargo company purchases a derelict airliner. On the first flight, the jet plunges toward the ocean. The CIA assesses the two spectacles: a practiced killer leaving a trail of bodies across Europe, and a large airplane disappearing without a trace. The two affairs are increasingly seen to be intertwined . . ." (Adapted from catalogue)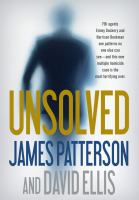 Unsolved / Patterson, James
"FBI agent Emmy Dockery is relentless. She's young and driven, and her unique skill at seeing connections others miss has brought her an impressive string of arrests. But a shocking new case-unfolding across the country-has left her baffled. The victims all appear to have died by accident, and have seemingly nothing in common. But this many deaths can't be coincidence. The killer is somehow one step ahead of every move Dockery makes. How?" (Adapted from catalogue)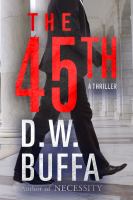 The 45th / Buffa, Dudley W.
"What if a political party in disarray turned to a man to lead them with no political background? What if a country torn apart by ideology turned to a man whose charisma belied a complete lack of governing experience? What if a country elected a President based not on qualifications, but on hope? Would this man lead the country into a new era of fortune and prosperity? Or would he lead them into total and complete chaos?" (Adapted from catalogue)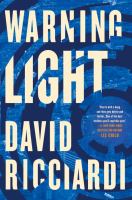 Warning light / Ricciardi, David
"When a commercial aircraft makes an emergency landing at an Iranian military base, it looks like a crisis has been narrowly avoided. But for undercover intelligence analyst Zac Miller, the CIA-staged crash landing is the only part of his assignment that goes right. What was supposed to be a surveillance mission quickly heads south when the Iranians apprehend the smooth-talking American. Zac's in over his head, especially when it turns out escaping from captivity is only the beginning of his problems . . ." (Adapted from the catalogue)
The never game / Deaver, Jeffery
"Colter Shaw is an itinerate 'reward-seeker,' traveling the country to help police solve crimes and private citizens locate missing persons. When he learns of a reward for a missing college student in Silicon Valley, he takes the job. The investigation quickly thrusts him into the dark heart of Silicon Valley and the cutthroat billion-dollar video gaming industry, then a second kidnapping happens . . . and this victim turns up dead." (Adapted from catalogue)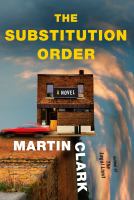 The substitution order / Clark, Martin
"Kevin Moore, once a high-flying Virginia attorney, lands in the middle of nowhere with a job at the world's saddest sandwich shop. His closest confidants: a rambunctious rescue puppy and the 20-year-old computer whiz manning the restaurant counter. When a mysterious stranger wanders into the shop armed with a threatening "invitation" to join a multimillion-dollar scam, Kevin will need every bit of his legal savvy just to stay out of prison." (Adapted from catalogue)