To a new World of Gods and Monsters. Ha, ha. The creation of life is enthralling, distinctly enthralling, is it not?"
–Bride of Frankenstein (1935).
In this month's science fiction and fantasy showcase we have a fantastically varied selection of newly acquired titles, including New Zealander David Hair's third book in his epic fantasy series The Sunsurge Quartet called Hearts of Ice; Alastair Reynolds' Permafrost; Neil Asher's latest called The Warship; Anne Bishop's Wild Country and Adrian Tchaikovsky's Children of Ruin.  Amongst these literary riches we have another in a long line of books inspired by Frankenstein; or, The Modern Prometheus first published in 1818 by the nineteen year old Mary Wollstonecraft Shelley. The latest literary luminary to be inspired by the work is Jeanette Winterson whose Frankissstein: A Love Story takes a  look specifically at gender fluidity, the meaning of love and desire, transformation and artificial intelligence in the light of this legend.
Frankissstein : a love story / Jeanette Winterson.
"In Brexit Britain, a young transgender doctor called Ry is falling in love  – with Victor Stein, a celebrated professor leading the public debate around AI. Across the Atlantic, in Phoenix, Arizona, a cryonics facility houses dozens of bodies of men and women who are medically and legally dead… but waiting to return to life. But the scene is set in 1816, when nineteen-year-old Mary Shelley writes a story about creating a non-biological life-form. What will happen when homo sapiens is no longer the smartest being on the planet?" (Adapted from Syndetics summary)
Hearts of ice / David Hair.
"Summer is gone, and the world is turning to ice.  The Rondian Empress Lyra has lost her husband, her army is defeated and the deadly Masked Cabal have seized the Holy City. Lyra and her fellow dwymancers must master their deadly magic, whatever the cost. Even those who believe themselves to be fighting for good must grasp the reins of power with cold-hearted determination, and use even the most terrible weapon, if they are to stop the world from falling apart… for ever." (Adapted from Syndetics summary)
Permafrost / Alastair Reynolds. (print) (ebook)
"Fix the past. Save the present. Stop the future. 2080: at a remote site on the edge of the Arctic Circle, a group of scientists, engineers and physicians gather to gamble humanity's future on one last-ditch experiment. Their goal: to make a tiny alteration to the past, averting a global catastrophe while at the same time leaving recorded history intact. To make the experiment work, they just need one last recruit: an ageing schoolteacher whose late mother was the foremost expert on the mathematics of paradox." (Adapted from Syndetics summary)
Children of ruin / Adrian Tchaikovsky. (print) (ebook)
"Earth's terraforming program took to the stars. On the world they called Nod, scientists discovered alien life – but it was their mission to overwrite it with the memory of Earth. Then humanity's great empire fell, and the program's decisions were lost to time. Aeons later, humanity and its new spider allies detected fragmentary radio signals between the stars. They dispatched an exploration vessel, hoping to find cousins from old Earth. But those ancient terraformers woke something on Nod better left undisturbed." (Adapted from Syndetics summary)
The warship / Neal Asher. (print) (ebook)
"Their nemesis lies in wait . . . Orlandine has destroyed the alien Jain super-soldier by deploying an actual black hole. And now that same weapon hoovers up clouds of lethal Jain technology, swarming within the deadly accretion disc's event horizon. Yet behind her back, forces incite rebellion on her home world, planning her assassination. Earth Central, humanity's ruling intelligence, knows Orlandine was tricked into releasing her weapon, and fears the Jain are behind it." (Adapted from Syndetics summary)
Wild country / Anne Bishop. (print) (ebook)
"There are ghost towns in the world – places where humans were annihilated in retaliation for the slaughter of the Others. One of those places is Bennett, a town surrounded by wild country. Now efforts are being made to resettle Bennett as a community where humans and Others live together. A young female police officer has been hired as the deputy to a Wolfgard sheriff. A deadly type of Other wants to run a human-style saloon. And a couple with four foster children – one of whom is a blood prophet – hope to find acceptance." (Adapted from Syndetics summary)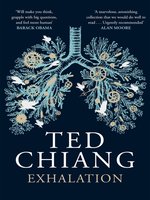 Exhalation / Ted Chiang. (print) (ebook)
"This much-anticipated second collection of stories is signature Ted Chiang, full of revelatory ideas and deeply sympathetic characters. In 'The Merchant and the Alchemist's Gate,' a portal through time forces a fabric seller in ancient Baghdad to grapple with past mistakes and the temptation of second chances. In the epistolary 'Exhalation,' an alien scientist makes a shocking discovery with ramifications not just for his own people, but for all of reality. In Exhalation, Ted Chiang wrestles with the oldest questions on earth – What is the nature of the universe? What does it mean to be human?" (Syndetics summary)
A brightness long ago / Guy Gavriel Kay.
"In a chamber overlooking the nighttime waterways of a maritime city, a man looks back on his youth and the people who shaped his life. Danio Cerra's intelligence won him entry to a renowned school, though he was only the son of a tailor. He took service at the court of a ruling count – and soon learned why that man was known as The Beast. Danio's fate changed the moment he recognized Adria Ripoli as she entered the count's chambers one night – intending to kill. Born to power, Adria had chosen a life of danger – and freedom – instead." (Adapted from Syndetics summary)