Wellington readers have been catching up with popular authors and characters, from quirky geneticists to mysterious drifters. A new voice in thriller writing will leave you unsettled in the suburbs and a polished hand at romance and family connections deftly delivers insights and delights in chance opportunities.
The most borrowed fiction titles this month lead with the Venetian curiosities of Commissario Brunetti, by Donna Leon, where private lives and inheritance laws lead to twisted results amongst a tight group of friends.  The popular Rosie series by Graeme Simsion reaches it's conclusion with The Rosie Result. The first two books didn't spell out autism or being 'on the spectrum', but the third book jumps in to tackle the issue.  As a family facing daily hurdles together they look at identity and how a defining aspects of personality can influence your own life path and the way people view you. Heartwarming and funny this book is a great way to wrap up with these characters.  
First time novel writer Gill Thompson was inspired to write by the formal apology of two Prime Ministers to the child migrants from England to Australia.  Many shipped off under false pretenses, lied to about their parents and forced to create new lives. Thompson interviewed, wrote and rewrote many drafts over nine years determined her research and writing would connect readers to events from over sixty years ago. The oceans between us tells of a separated mother and son and the emotional impact on their lives.
1 Unto us a son is given, by Donna Leon
2 The Rosie result, Graeme C Simsion
3 I owe you one, by Sophie Kinsella
4 Transcription, by Kate Atkinson
5 Past tense, by Lee Child
6 Normal people, by Sally Rooney
7 Nine perfect strangers, by Liane Moriarty
8 The oceans between us, by Gill Thompson
9 The midnight line, by Lee Child
10 My lovely wife, by Samantha Downing
Unto us a son is given / Leon, Donna (print)
"As a favour, Commissario Guido Brunetti agrees to investigate the seemingly innocent wish of the Count's best friend, the elderly and childless Gonzalo, to adopt a younger man as his son. Under Italian inheritance laws, this man would become the sole heir to Gonzalo's substantial fortune. Not long after Brunetti meets with Gonzalo, the elderly man unexpectedly passes away from natural causes. When Berta, a striking woman and one of Gonzalo's closest confidantes, is strangled in her hotel room, Brunetti is drawn into long-buried secrets from Gonzalo's past. What did Berta know? And who would go to such lengths to ensure it would remain hidden?" (Catalogue)
The Rosie result / Simsion, Graeme C (print) (eBook)
"Don and Rosie are back in Melbourne after a decade in New York, and they're about to face their most important project. Their son, Hudson, is having trouble at school. Meanwhile, Rosie is battling Judas at work, and Don is in hot water after the Genetics Lecture Outrage. The life-contentment graph, recently at its highest point, is curving downwards. For Don Tillman, geneticist and World's Best Problem-Solver, learning to be a good parent as well as a good partner will require the help of friends old and new. It will mean letting Hudson make his way in the world, and grappling with awkward truths about his own identity. And opening a cocktail bar." (Catalogue)
I owe you one / Kinsella, Sophie (print) (eBook)
"Fixie Farr can't help herself. Straightening a crooked object, removing a barely-there stain, helping out a friend . . . she just has to put things right. It's how she got her nickname, after all. So when a handsome stranger in a coffee shop asks her to watch his laptop for a moment, Fixie not only agrees, she ends up saving it from certain disaster. To thank her, the computer's owner, Sebastian, scribbles her an IOU – but of course Fixie never intends to call in the favour. That is, until her teenage crush, Ryan, comes back into her life and needs her help – and Fixie turns to Seb. But things don't go according to plan, and now Fixie owes Seb- big time. Soon the pair are caught up in a series of IOUs – from small favours to life-changing debts – and Fixie is torn between the past she's used to and the future she deserves. Does she have the courage to fix things for herself and fight for the life, and love, she really wants? " (Catalogue)
The oceans between us / Thompson, Gill (print)
"A woman is found wandering injured in London after an air raid. She remembers nothing of who she is. Only that she has lost something very precious. As the little boy waits in the orphanage, he hopes his mother will return. But then he finds himself on board a ship bound for Australia, the promise of a golden life ahead, and wonders: how will she find him in a land across the oceans? In Perth, a lonely wife takes in the orphaned child. But then she discovers the secret of his past. Should she keep quiet? Or tell the truth and risk losing the boy who has become her life?" (Catalogue)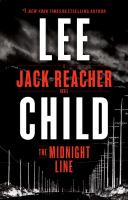 The midnight line / Child, Lee (print) (eBook)
"Reacher sees a West Point class ring in a pawn shop window. It's tiny. It's a woman cadet's graduation present to herself. Why would she give it up? Reacher was a West Pointer too, and he knows what she went through to get it.
All he wants is to find the woman.
He'll have to go through bikers, cops, crooks, and low-life muscle.
If she's ok, he'll walk away. If she's not … he'll stop at nothing.
Best advice: stay out of his way." (Catalogue)
My lovely wife / Downing, Samantha (print)
"Dexter meets Mr. and Mrs. Smith in this wildly compulsive debut thriller about a couple whose fifteen-year marriage has finally gotten too interesting…
Our love story is simple. I met a gorgeous woman. We fell in love. We had kids. We moved to the suburbs. We told each other our biggest dreams, and our darkest secrets. And then we got bored. We look like a normal couple. We're your neighbors, the parents of your kid's friend, the acquaintances you keep meaning to get dinner with. We all have our secrets to keeping a marriage alive. Ours just happens to be getting away with murder." (Catalogue)