The suspects are hazy, the motives uncertain and the murder weapon is in doubt: none the less, I suspect the butler in the library with the candlestick! This month's fictional sleuths solve their crime puzzles in a dazzling variety of ways, from the classic stylings of Sophie Hannah's new Hercule Poirot mystery to the gritty Tartan Noir of Lin Anderson's Sins of the Dead.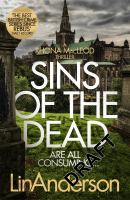 Sins of the dead / Anderson, Lin
"While illegally street racing in the underground tunnels of Glasgow, four Harley Davidson riders make a horrifying discovery. A dead man left in the darkness, hands together on his chest as if peacefully laid to rest. The cause of death unclear, the only clues being a half glass of red wine, and a partially eaten chunk of bread by his side that echo the ancient religious practice of sin-eating. Called to the scene, forensic scientist Rhona MacLeod is perplexed by the lack of evidence. " (Adapted from Catalogue)
The angel in the glass / Clare, Alys
"Physician-sleuth Dr Gabriel Taverner uncovers dark secrets in his small Devon village in the second of this intriguing historical mystery series: June, 1604. When the emaciated body of a vagrant is found on the edge of the moor, it's the verdict of physician Gabriel Taverner that the man died of natural causes – but is all as it seems? Who was the dead man, and why had he come to the small West Country village of Tavy St Luke's to die cold, sick and alone? With no one claiming to have known him, his identity remains a mystery." (Adapted from Catalogue)
Dark queen rising / Doherty, P. C
"The Wars of the Roses are reaching their bitter and bloody climax. Edward of York has claimed the English throne, and his supporters are extracting a savage revenge on all who supported the Lancastrian cause. Surrounded by enemies wherever she turns, the position of Margaret Beaufort, Countess of Richmond and mother to Henry Tudor, the last remaining hope of the House of Lancaster, is precarious to say the least. When four bodies are discovered in a London tavern, their throats slit, and Margaret herself is suspected of being behind the crime, it's up to Ulswicke to prove his mistress's innocence and unmask the real killer." (Adapted from Catalogue).
Keeper / Gustawsson, Johana
"Whitechapel, 1888: London is bowed under Jack the Ripper's reign of terror. London, 2015: actress Julianne Bell is abducted in a case similar to the terrible Tower Hamlets murders of 10 years earlier, and harking back to the Ripper killings. Falkenberg, Sweden, 2015: a woman's mutilated body is found in a forest, her wounds identical to those of the Tower Hamlets victims. With the man arrested for the Tower Hamlets crimes locked up, do the new killings mean he has an accomplice, or is a copy-cat serial killer on the loose? Profiler Emily Roy and true-crime writer Alexis Castells are again drawn into an intriguing case with personal links." (Catalogue)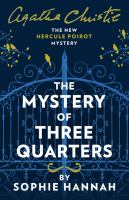 The mystery of three quarters : the new Hercule Poirot mystery / Hannah, Sophie
"Returning home after lunch one day, Hercule Poirot finds an angry woman waiting outside his front door. She demands to know why Poirot has sent her a letter accusing her of the murder of Barnabas Pandy, a man she has neither heard of nor ever met. Poirot has also never heard of a Barnabas Pandy, and has accused nobody of murder. Shaken, he goes inside, only to find that he has a visitor waiting for him – a man who also claims also to have received a letter from Poirot that morning, accusing him of the murder of Barnabas Pandy… Poirot wonders how many more letters of this sort have been sent in his name. More importantly, who is Barnabas Pandy, is he dead, and, if so, was he murdered? And can Poirot find out the answers without putting more lives in danger?" (Adapted from Catalogue)
Walking shadows / Kellerman, Faye
"Who would savagely kill two innocent men? With a little help from his wife Rina, Detective Peter Decker must use all of his skills to put the pieces of this deadly puzzle together… before the murderer strikes again. Detective Decker and his wife risk life and limb to solve a pair of brutal murders that may be tied to a crime from more than twenty years ago in this intense and addictive mystery from New York Times bestselling author Faye Kellerman. ."(Adapted from Catalogue)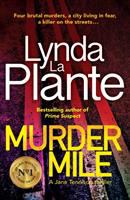 Murder mile / La Plante, Lynda
"Four brutal murders, a city living in fear, a killer on the streets…Prime Suspect's Jane Tennison returns in the 4th book in the bestselling Tennison series, from the doyenne of crime fiction." (Catalogue)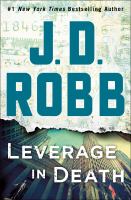 Leverage in death / Robb, J. D.
"Lieutenant Eve Dallas puzzles over a bizarre suicide bombing in a Manhattan office building in the latest in the #1 New York Times bestselling series… In this next installment of Robb's mega-best-selling futuristic police procedural, NYPSD lieutenant Eve Dallas investigates when marketing VP Paul Rogan walks into a big Wall Street mergers meeting strapped with explosives and blows the place sky-high. He was forced to act by masked men holding his family hostage, but their goal is murky." (Adapted from Catalogue)
A shot in the dark : a Constable Twitten mystery / Truss, Lynne
"The charming first novel in a new comic crime series, from one of Britain's most-loved writers, the incomparable Lynne Truss. It is 1957 in Brighton and Inspector Steine is rather enjoying his life as a policeman by the sea. No criminals, no crime, no stress. So it's really rather annoying when an ambitious – not to mention irritating – new constable shows up to work and starts investigating a series of burglaries. And it's even more annoying when, after Constable Twitten is dispatched to the theatre for the night, he sits next to a vicious theatre critic who is promptly shot dead part way through the opening night of a new play. It seems Brighton may be in need of a police force after all." (Catalogue)