The avid readers of Wellington have been spending these long winter nights, chilly commutes, and chance sunny spells devouring the latest offerings of the fiction world.  What have been the most favourite titles this past season? Interest in Pip Adam's new award winning title means The New Animals is in a favoured position amongst readers. Adam has received high praise for writing technique and her faceted nuanced characters that live beyond accepted palatable current Auckland stereotypes.
There is a decent helping of gritty mystery writing from the likes of Jo Nesbø and Donna Leon. Jo Nesbø's Macbeth is one in the Hogarth Shakespeare series preceded by Edward St. Aubyn's treatment of King Lear in Dunbar. North American President turned author Bill Clinton writing with James Patterson has also captured the capital's attention, as have writing luminaries Ali Smith and Michael Ondaatje.  Below are the top 10 titles by issues in August.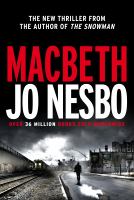 1. Macbeth / Nesbø, Jo
"When a drug bust turns into a bloodbath it's up to Inspector Macbeth and his team to clean up the mess. He's also an ex-drug addict with a troubled past.He's rewarded for his success. Power. Money. Respect. They're all within reach.But a man like him won't get to the top. Plagued by hallucinations and paranoia, Macbeth starts to unravel. He's convinced he won't get what is rightfully his. Unless he kills for it." (Catalogue)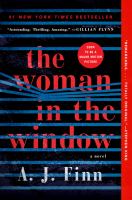 2. The woman in the window / Finn, A. J
"It's been ten long months since Anna Fox last left her home. Ten months during which she has haunted the rooms of her old New York house like a ghost, lost in her memories, too terrified to step outside.
Anna's lifeline to the real world is her window, where she sits day after day, watching her neighbours.
But one evening, a frenzied scream rips across the silence, and Anna witnesses something no one was supposed to see. Now she must do everything she can to uncover the truth about what really happened. But even if she does, will anyone believe her? And can she even trust herself?" (Catalogue)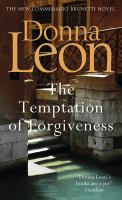 3. The temptation of forgiveness / Leon, Donna
"As the twenty-seventh novel unfolds in Donna Leon's exquisite chronicle of Venetian life in all its blissful and sordid aspects, Brunetti pursues several false and contradictory leads while growing ever more impressed by the intuition of his fellow Commissario, Claudia Griffoni, and by the endless resourcefulness and craftiness of Signorina Elettra, Patta's secretary and gate-keeper. Exasperated by the petty bureaucracy that constantly bedevils him and threatens to expose Signorina Elettra, Brunetti is steadied by the embrace of his own family and by his passion for the classics." (Catalogue
4. The new animals / Adam, Pip
Carla, Sharon and Duey have worked in fashion for longer than they care to remember — for them, there's nothing new under the sun. They're Generation X: tired, cynical and sick of being used. Tommy, Cal and Kurt are Millenials, they've come from nowhere, but with their monied families behind them they're ready to remake fashion. They represent the new sincere, the anti-irony. Both generations are searching for a way out, an alternative to their messed-up reality. Pip Adam's new novel walks the streets of Auckland city now, examining the fashion scene, intergenerational tension and modern life with an unflinching eye. From the the wreckage and waste of the 21st century, new animals must emerge." (Catalogue)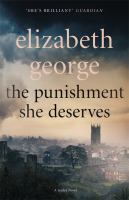 5. The punishment she deserves / George, Elizabeth
"No. 1 New York Times best-selling George returns with the next mystery featuring DI Thomas Lynley and his partner DS Barbara Havers, who's in the lead here. Approached by a Member of Parliament with a request to investigate the supposed suicide of a constituent's son, New Scotland Yard's assistant commissioner sees an opportunity to stick Havers with an impossible case and thence get rid of her. (He's not a fan.) George's last title was in 2015, so folks will be clamoring. Award-winning author Elizabeth George delivers another masterpiece of suspense in her Inspector Lynley series." (Catalogue)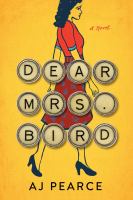 6. Dear Mrs. Bird : a novel / Pearce, A. J.
"London, 1940. Emmeline Lake is Doing Her Bit for the war effort, volunteering as a telephone operator with the Auxiliary Fire Services. When Emmy sees an advertisement for a job at the London Evening Chronicle, her dreams of becoming a Lady War Correspondent suddenly seem achievable. But the job turns out to be working as a typist for the fierce and renowned advice columnist, Henrietta Bird. The irrepressible Emmy keeps writing letters in this hilarious and enormously moving tale of friendship, the kindness of strangers, and ordinary people in extraordinary times." (Catalogue)
7. The President is missing / Clinton, Bill
"The President is Missing. The world is in shock. But the reason he"s missing is much worse than anyone can imagine. With details only a President could know, and the kind of suspense only James Patterson can deliver." (Catalogue)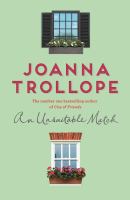 8. An unsuitable match / Trollope, Joanna
"Rose Woodrowe is getting married to Tyler Masson – a wonderful, sensitive man who is head-over-heels in love with her. The only problem? This isn't the first time for either of them, and their five grown-up children have strong opinions on the matter… Who to listen to? Who to please? Rose and Tyler are determined to get it right this time, but in trying to make everyone happy, can they ever be happy themselves?" (Catalogue
9.
Winter / Smith, Ali
"Following Autumn, the first of four novels named for the seasons and drawing on their moods, Smith takes an icy look at the era of Brexit and fake news, examining themes of history and memory and celebrating our will to survive. Winter. It makes things visible. Ali Smith's shapeshifting Winter casts a warm, wise, merry and uncompromising eye over a post-truth era in a story rooted in history and memory and with a taproot deep in the evergreens, art and love." (Catalogue)
10. Warlight / Ondaatje, Michael
"In a narrative as mysterious as memory itself – at once both shadowed and luminous – Warlight is a vivid, thrilling novel of violence and love, intrigue and desire. It is 1945, and London is still reeling from the Blitz and years of war. 14-year-old Nathaniel and his sister, Rachel, are apparently abandoned by their parents, left in the care of an enigmatic figure named The Moth. They suspect he might be a criminal, and grow both more convinced and less concerned as they get to know his eccentric crew of friends: men and women with a shared history, all of whom seem determined to protect, and educate… But are they really what and who they claim to be? A dozen years later, Nathaniel begins to uncover all he didn't know or understand in that time, and it is this journey – through reality, recollection, and imagination – that is told in this magnificent novel." (Catalogue)