To celebrate Seaweek from Saturday 1 through to  Sunday 9 March, we want to display your photos of the sea at Central Library. With the weather improving this is a great opportunity to take out your camera! We would love to have your favourite piece(s) of work admired by library visitors.
If you're interested in contributing your photos, take them to the Information Desk at the Central Library, where you'll see the blue Seaweek box until 28 February.  Of course, please write your name and contact details on the back of the photo(s) so that we can make sure they go back to the right person.
A big thank you to Island Bay Marine Education Centre for their contribution to our Seaweek display. You can read an article on the Centre in the latest issue of FishHead magazine available from our magazine collection.
Rules and Conditions:
1. The photographs must be original works; e.g. taken by yourself. Your name will be printed underneath your photo unless otherwise specified.
2. Return of the photographs is the responsibility of the owner and they will be made available for collection from the point of delivery from 10/3/14 until no later than 10/4/14.
3. Wellington City Libraries will not display photographs deemed inappropriate, will not be held liable for loss or damage of photographs, and are not liable for individuals who breach copyright law.
Check out some great photography ideas from our collection:
New Zealand's wild places / Craig Potton.
"New Zealand's Wild Places contains not only a selection of Potton's iconic landscape images, but also some fresh images, many of which were taken while making his two highly successful TV series, 'Rivers' and 'Wild Coasts'. Complementing the format of these programmes, New Zealand's wild places has also been structured thematically, with sections covering rivers and lakes, the coast, forests and mountains."  (Book jacket)
Underwater photography: art and techniques
"Underwater photography is a challenging discipline. To capture an underwater world of glorious colours, extraordinary creatures and mysterious depths, you must have confidence in your diving abilities and be very comfortable with your camera. This practical book explains and offers advice to the reader on both the art and the science involved in capturing stunning underwater shots. Contents include: advice on the equipment you will need to get the most from your underwater photography; descriptions of underwater habitats and animal behaviour; guidance on how to be a responsible photographer and finally, direction and assistance on topics including composition, natural and artificial lighting, exposure and underwater conditions." (Syndentic summary)
Photography : the new complete guide to taking photographs : from basic composition to the latest digital techniques / John Freeman.
"A revised and updated edition of John Freeman's bestselling photography title, with a discussion of new cameras, information on new digital technologies, and numerous sparkling new images! Acclaimed photographer Freeman simply covers all the basics–and more–in one single easy-to-follow volume. He provides hundreds of tips for taking more creative and expressive photos; explores all the most popular topics, including people, nature, the urban landscape, and more; and offers valuable insights for increasing your enjoyment of the art. From artificial lighting to texture and hue, from increasing depth of field to recent developments in digital processing, this book reveals everything the modern photographer needs to know!" (Syndetics summary)
Vaka moana : voyages of the ancestors : the discovery and settlement of the Pacific / editor K. R. Howe.
"This large, lavishly illustrated, coffee-table book houses a work of first-rate scholarship that reports and reflects upon the state of knowledge concerning the discovery and settlement of the Pacific islands and the technologies of canoe building, sailing, and navigation that made this possible. This has been the most venerable arena of research in the anthropology of the Pacific. The accessibly written chapters are by K. R. Howe, Rawiri Taonui, Geoffrey Irwin, Ben Finney, Roger Neich, and Anne Salmond. The range of treatment is comprehensive, and the maps, drawings, and photographs are both delightfully distracting and instructive. The authors cover the post-European contact history of sailing as well as contemporary efforts to relearn, preserve, and practice these technologies. Summing Up: Highly recommended. All levels/libraries. G. E. Marcus University of California, IrvineCopyright American Library Association, used with permission." (CHOICE)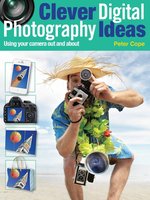 Clever Digital Photography Ideas, by Peter Cope (eBook)
"A practical, accessible guide to the ingenious and creative things that can be done with a digital compact or camera phone. Clever Digital Photography Ideas: Using Your Camera Out and About is a chapter from the book 100 Clever Digital Photography Ideas and provides a variety of simples ideas for getting more from your camera or camera phone when you are out and about, beyond your travels and holidays. Some ideas might be obvious, like tips for shooting landscapes, but many are more obscure and fun, like creating a visual gift list and using your camera as binoculars. With so many people owning camera phones these days, there's no excuse not to be taking photographs whilst you are out and about.All ideas and projects are presented with easy to follow instructions and striking photographs across colourful pages. Open your eyes to the creative possibilities with your digital photo technology, from using a basic compact camera to the latest smart phone. Whether a novice or a pro, Clever Digital Photography Ideas: Using Your Camera Out and About will show you how to break out of your comfort zone and try something exciting and new." (Overdrive description)