Glamour + Realism + Multimedia = Photography today
This month, we'll start our photographic journey with two restrospectives; The first focuses on the most photographed person in the world, the second reflects on one photographer's long career taking portraits of unknown, young people.
We'll then discover a remote set of islands in the South Pacific and work that it inspired during a unique journey for nine artists, including phtographers. We'll wrap up for this month with some books on theory and techniques for the analog and digital enthusiasts alike.
Marilyn by Magnum / with an essay by Gerry Badger
The fascination with Marilyn is just as alive today as it was during her short life and this book, 50 years after her death, is a wonderful collection of beautiful portraits and candid scenes of intimate and sometimes poignant moments in the legendary Hollywood star's life. As Inge Morath put it, "Once she was ready to be photographed, she would surpass the expectations of the lens. She had a shimmering quality like an emanation of water, and she moved lyrically."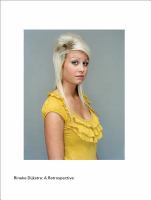 Rineke Dijkstra : A Retrospective
Published to coincide with the first major retrospective in North America of the work of dutch artist Rineke Djikstra by the San Francisco Museum of Modern Art and the Solomon R. Guggenheim Museum, New York, this impressive book compiles examples of Dijkstra's major projects of the past 20 years, dedicated to capturing her subjects offering their most authentic selves to an empathetic eye. From the awkward adolescents on a North Sea beach that marked her early career, to young soldiers, new mothers after birth and bullfighters after a fight, Dijkstra's work is beautifully presented, accompanied by excellent essays and text placing her body of work in historical and artistic context. The definitive reference on this important artist. This Times magazine article offers a preview of the some of the images on show.
Kermadec : nine artists explore the South Pacific / edited by Bronwen Golder and Gregory O'Brien
In May 2011 the Kermadec Initiative of the Pew Environment Group invited nine artists from New Zealand and Australia, together with broadcaster Marcus Lush, to join them on a journey to the remote islands of the region. The unusual group boarded on HMNZS Otago for a discovery of the natural treasures that the region represents, on a mission to record their experience through their respective media. From Raoul island to Tonga, the group sketched, painted, crafted, photographed, filmed and recorded an array of impressions, documented as a fascinating diary in this important book aimed at raising awareness of this pristine ocean realm. Samples of works by Phil Dadson, Bruce Foster, Fiona Hall, Gregory O'Brien, Jason O'Hara, John Pule, John Reynolds, Elizabeth Thomson and Robin White give a multi-faceted view of a unique marine environment. The exhibition 'Kermadec' will open at the City Gallery in Wellington on 3 October 2012. For more information, check out the project's official website, or the City Gallery's revamped website.
What makes great photography : 80 masterpieces explained / Val Williams
This little gem of a book discusses the elusive topic of what makes a photograph great. Showcasing 80 definitive photographs spanning from the pioneers of photography to the most contemporary, from portrait to landscape, studio to field war photography, and analyses the elements that distinguish each of them from others, examining composition, colour, texture, subject matter, cultural or political context. An interesting exercise in analysis and deconstruction, in looking at a photograph and verbalising what we see and what it means to each of us.
Photography : the new basics : principles, techniques and practice / Graham Diprose and Jeff Robins
An all rounder, covering all aspects of photography techniques and principles, from digital to analog, acknowledging that traditional and alternative processes have experienced a revival in last few years. Pre- and post production are given equal importance and the main photography genres are explained, illustrated and given a historical background. Practical examples are clearly presented, interspersed with relevant examples from well know photographers. Informative and interesting. 
The art of photography : an approach to personal expression / Bruce Barnbaum
"This respected textbook has been completely revised with a nod towards digital technology, though much of the book still focuses on traditional, mostly black and white, film photography and processing. Combining artistic philosophy with hands-on technical instruction, accomplished photographer Barnbaum generously shares his tremendous wealth of knowledge to the great benefit of amateur to professional level photographers. The book includes hundreds of the author's beautiful photographs used as examples to illustrate instruction on composition, light, exposure, developing, printing, presentation, creativity, and philosophy. Much attention is given to the tried-and-true "zone system" of exposure and processing originally developed by Ansel Adams and Fred Archer. This book will be especially useful for photographers working with film in a world saturated with references aimed solely at the digital photographer." – (adapted from Booknews.com summary) 
Adobe Photoshop CS6 for photographers : a professional image editor's guide to the creative use of Photoshop for the Macintosh and PC / Martin Evening
And finally, the rumour is true: CS6 is upon us! If analog black and white still gets the lion's share in The Art of Photography, Adobe Photoshop CS6 for photographers is the definite companion for digital photographers. Whether you have bought Photoshop for the first time or you are ready to upgrade, this is the newest version and this is the book to reveal all. Complete, clear and well organised, illustrated with concrete examples that will help you put techniques to the test and let you get familiar with them. To get you started and help you go straight to the new features, check out this blog and accompanying videos