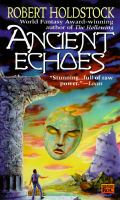 The British born writer Robert Holdstock has died suddenly, aged 61 from an E-Coli infection.
He began writing full time in 1976, after using his Master of Science in Medical Zoology working as a researcher for the Medical Research Council in London. He began his writing career with many published short stories and novellas. His first science fiction novel Eye Among the Blind was published in 1976. His break through fantasy novel, Mythago Wood, which was published in 1984, began as a novella published in 1981. This title became his most popular book, drawing on English folklore and Celtic myth.
The sequel Avilion was published in 2009. He also wrote the Merlin Codex series of three novels, six other novels and a collection of short stories.